Crab Island adventure is adventure like no other.
By | March 21, 2013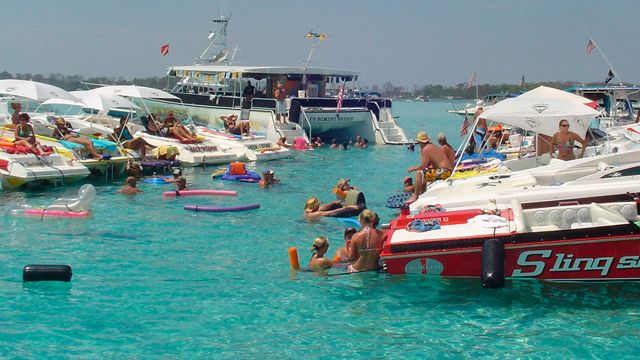 Destin, FL
One would think if you receive an invitation to go to Crab Island for the day, you are going to be visiting an island. But a Crab Island adventure is like no other. Most likely you are going to board a boat in the Destin Harbor. On your way to the mouth of the harbor, you will pass families, couples and groups of people who have managed to make their way to Norriego Point by boat or shuttle. They are just hanging out having a good time... eating, partying, walking the beaches or playing in the water. Dogs are a familiar sight... today, two black lab pups were climbing the dunes, rolling and kicking up sand... you have to love that! Soon you find yourself headed to Destin Pass, motoring slowly a short distance and crossing under the bridge that extends between Destin and Okaloosa Island. You already feel you have died and gone to heaven. You have crossed through the most beautiful emerald green water surrounded by sparkling, powdery white sand dunes accompanied by the sounds of people laughing and having a good time.

Did I tell you how beautifully emerald green the water is? Oh yes. Did I remember to share the color of those beautiful blue skies... how about the feeling of warm sunshine all around you? Oh, did I to tell you how seldom it rains here, so you are nearly guaranteed a day like this every time you go to Crab Island?

Well... there's still no island in sight, but you arrive at a small community of ten to 200 assorted motor boats and floating objects. Then the captain calls out, "We're here!" and jumps overboard. Well, you're not really "here yet" because he still has to pull the boat through the water to the desired position. Then, the captain comes aboard and throws out the anchor and states you have arrived!

Crab Island is a giant underwater sand bar, none of which extends above the surface of the water. The water depth varies from two to ten feet deep depending on where you anchor. Now it's your turn to jump overboard. You feel the beautiful, soft white sand under your feet and look into water so aqua and clear... now you have truly arrived! There's a mild movement to the water just enough to make things interesting. For boaters and water lovers, it doesn't get any better.

Locals and visitors alike come here to play in the water, party or simply relax. Boaters walk through the water to visit their friends... or make new friends. And... let me tell you everyone is friendly. Visitors will love the warm reception they receive!

Walk over (that's right), walk over to the Sinkin' Weenie and ask Brian to serve up one of his wonderful luncheon items... all yummy!

So come to Destin any weekend, rent a boat or bring your own... but go to Crab Island for the afternoon... you won't be disappointed.