A jollie olde tyme in Renaissance England awaits those hardy enough to visit the Louisiana Renaissance Festival!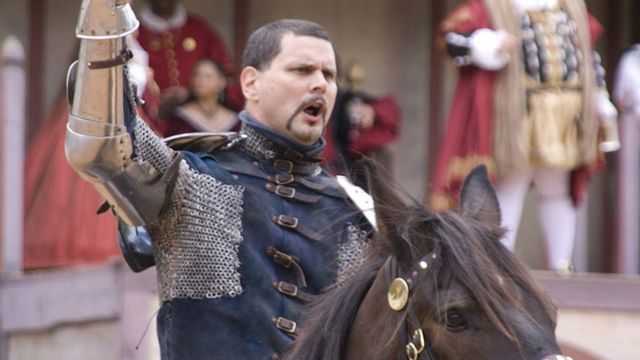 Hammond, LA
The most exciting holiday shopping and entertainment in Louisiana!
NEED TO KNOW:
What:
Louisiana Renaissance Festival
When:
November 4 - December 10, 2017
Open rain or shine every weekend, November 4th - December 10th, the "Louisiana Renaissance Festival" brings to life what an English village and festive market place could have been like, mixed with a little bit of Louisiana spice! You'll experience the exciting romantic renaissance while you complete your holiday gift shopping from the most unique gift selections in Louisiana!
It's a festival and a fair, with Renaissance flair...lots of festivities, parades and all around merriment. There is a royal parade with their "majesties" and live performances that easily outdo any other shopping experience. Many artisans from near and far are there to display their craft...and it's all amidst everything from fancy ball gowns to Scottish kilts! Even men in armor and TIGHTS...no matter what you wear, you'll enjoy the festival.
The renaissance festival is known for having Peasants, Nobles, Knights, Barons, Clergymen and of course the King and Queen. The villagers include the Black Smith, Glass Blower, Carpenters, Weaver, Sculptors, Potters, Pig Farmer, Busty Wenches, Scotsmen in Kilts, and of course... Men in Tights. The Renaissance is also know for entertainment and events such as: Shakespeare, Juggling, fire eating, rope walkers, people on stilts, jesters, magicians, sword fighting duels, and Jousting.
Even the food has a deliciously medieval flavor... Flame grilled Turkey legs, Steak on a Stake, and just about any kind of meat skewered and served on a stick, can be found at the Ren Fest. There's modern and traditional refreshments as well, with a variety to chose from- Hot cocoa, apple cider, soft drinks, beer, mead, and water.
The Louisiana Renaissance Festival can be a very educational experience...you'll learn about history, how people lived and the social structure of the European Renaissance. There are many demonstrations of how products were created, such as: swords, woven fabric, pottery, blown glass and much more. The live interactive theater of the renaissance festival is unmatched in today's society.
Click here for a schedule of Louisiana Renaissance Festival events.
So, be brave my lads...Wander the festival grounds and find yourself hob-knobbing with royals, nobles, knights, and knaves... everyone will be on hand and at work while they sell their wares to the common Folk! The Louisiana Renaissance Festival is fun for the entire family...unparalleled entertainment and a "ye olde good time!"