Here's my top ten list of best bars for cocktails in New Orleans, LA.
By | June 18, 2013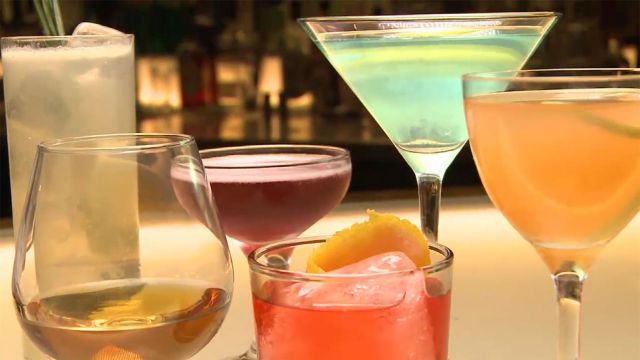 New Orleans, LA
Felix's
There's nothing fancy about this place, but the beer is ice cold and there is a full liquor bar too, if beer isn't your thing. Regardless of your drink of choice Felix's deserves to be paid a visit if for no other reason than the chargrilled oysters which are out of this world and pair very nicely with a frosty Abita.

GW Fins
If you're looking for something a little more upscale, then GW Fins is your spot. The beautiful décor, unique menu and extensive wine list, featuring over 70 wines by the glass make this one of the best bars to visit before being seated in the beautifully decorated dining room... trust me; you're going to want to stay for dinner. This is one of the best dining spots in New Orleans as well!

Commanders Palace
Nestled in the Garden District this gorgeous Victorian styled restaurant perfectly walks the fine line of old school New Orleans and a modern day cocktailing destination. Everything is hand made from the freshest ingredients right down to the ice that is hand chipped off an ice block by your bar chef. One side note... in keeping with the "Old New Orleans" theme there are no bar stools at this bar….it's a "belly up" bar just like in the old days!

Bombay Club
Not sure if you are in the mood for coffee, dessert or another cocktail? Have the best of all three and make a selection from the decadent martini list. The Bombay Club is decorated in a plush British style that is sophisticated without being stuffy. It's hard to have a favorite here but do yourself a favor and try the chocolate mocha-tini! There's also great live music, which makes this bar the type of place you could lose yourself in for hours and get away from all the craziness of Bourbon Street.

Napoleon House
This landmark was actually offered to Napoleon during his exile in 1821…long story short, he never made it, but the name stuck and today this is the spot to go for the New Orleans classic cocktail, the Pimms Cup. The bars atmosphere is rooted in history which makes it worth the visit in spite of the cocktails, but if you've never had a Pimms Cup here, you don't know what you are missing!

Sazerac Bar in the Roosevelt Hotel
You can't say you've truly experienced New Orleans if you've never tried a Sazerac. Invented in New Orleans and said to be the first mixed drink ever concocted the Sazerac Bar at the Roosevelt hotel is the perfect place to enjoy this unique cocktail. The warm ambiance and splendid luxury of this bar will make you feel special... you'll want to stay here a while.

Lafittes Blacksmith Shoppe
Best Bloody Mary EVER... and after a night out in New Orleans you know you're going to need it. There's also a lot of history to explore here. Built around 1772 it is known as the oldest continually occupied bar in the United States. The bartenders are friendly and there's always a great fun-loving crowd here. With so many places to go in New Orleans, this is one of the few places I visit EVERY time I am there!

The Carousel Bar at Hotel Monteleone
This is by far one of the most unique bars I've ever had the pleasure of visiting. It's the only revolving piano bar and lounge in New Orleans. That's right... the bar actually rotates with huge glass windows overlooking Royal Street in the heart of the French Quarter. The drinks are excellent and the upbeat piano music will make you want to spend the whole afternoon people watching the streets below.

SoBou
Definitely my new favorite bar in New Orleans! Recently opened by the Commanders Family of Restaurants this place has it all. The décor is modern and stylish and the drinks are second to none. They have a whole menu of signature cocktails, but what's really amazing about this place is the bartenders are quite literally artists in their field. You can just tell them what your tastes are (spicy, sweet, dry, fruity, etc) and in a few quick steps they will have mixed up a handmade cocktail tailored just to your tastes. Ask for Abigail when you arrive at the bar... she's awesome!!

Foundation Room
SoBou may be my NEW favorite bar, but this one still tops my list. The Foundation Room is the exclusive members only bar at the House of Blues, but what's really neat is even if you're not a member many of the hotels offer a "pass" that can get you in for the night. Ask your concierge about it and if you can, make sure you visit this place. The centuries old Tibetan temple architecture and original artwork make this bar a feast for the eyes and taste buds. You also never know who you may run into at the Foundation Room... lots of artists and celebrities visit this bar because of its chic atmosphere and delicious cocktails!