Our History
From the moment of conception, the new site was designed to fill the spaces left open by the larger players in the online travel business.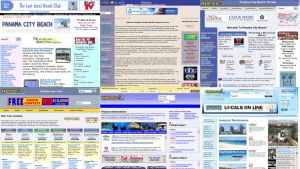 Destination Network's travel website was conceived in 1998 over cold beer and warm pastrami at Midway Deli, a quirky sandwich shop in Myrtle Beach, South Carolina. Toni Davis, co-founder and CEO of
Destination Network
(then known as Tourist Network), was meeting with a local television producer. The producer brought along a friend of his, Will Barnes, one of the Internet's newest gurus. Toni and Will hit it off; the obviousness of the Web's potential reach combined with Destination Network's unique market position became apparent, and within the hour, a new type of travel website had been conceived!
Originally launched as TouristNetwork.com in 1999, the new travel site was designed to fill the spaces left open by the larger players in the online travel business. Naturally it would have the expected features - hotel, car, and airline reservations, lists of accommodations, restaurants, attractions, etc. But, the unique pull of the site was to be, and still is, a combination of two things: hyper-local knowledge and rich video content.
Rebranded as TripSmarter.Com in late 2000, the site quickly gained popularity and became one of the leading travel sites for destinations in the Southeast United States. The small, but passionate team responsible for TripSmarter.Com continued to innovate and find newer, better ways to provide travelers with the information they needed to make the most of their trip. Along the way, the site garnered many awards, accolades and recognition for being a leader in the travel and technology industries.
Driven by the vision Davis and Barnes established, and guided by the leadership of Steve Nichols, Director of New Media since 2005, TripSmarter has continued to innovate and stay on the leading edge of technology and travel. The site has grown tremendously both in size and scope. Distribution has increased from desktop only, to desktop, smart phones, tablets, connected TV's and more. The hyper-local and video-centric strategies we established as a travel website more than a decade ago have matured and recently become industry buzzwords. Many travel companies have tried to imitate what we do - and you know what they say about imitation.
A lot has changed since TripSmarter.Com debuted, but our goal has remained constant: To help travelers make the most of their trip by providing the most entertaining and useful information in the formats our viewers prefer, delivered across the most popular platforms available. We accomplish this with lots of dedication, hard work and creativity, but we still make time to have some fun and take chances. It's who we are. (
meet the gang
!)