Here's a little bit of insider advice that I hope will help you feel more "like a local" and less like a tourist.
By | March 26, 2013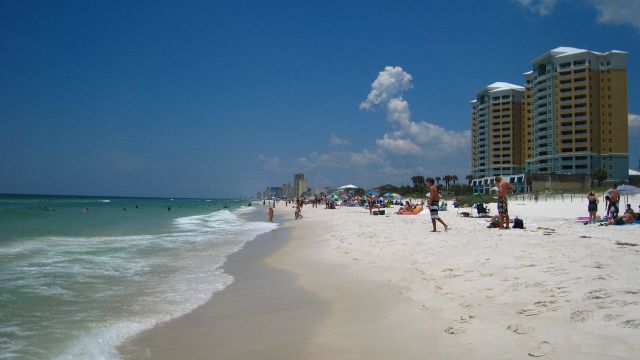 Panama City Beach, FL
When I vacation somewhere new, I typically research the area to find out as much insider information as I can. However, I realize that it is important not to plan out your vacation minute by minute and to be open to some spontaneity, which could in turn lead to a discovery of the perfect little Wine Bar, or your own private beach, or a local restaurant without a tourist in sight! But the last thing I want to do is stick out like a sore thumb, (picture a big floppy straw hat, fanny pack, camera around neck, driving at the pace of a snail, etc...etc.., you know what I talking about!). I always appreciate it when I get great advice from locals. So here's a little bit of insider advice that I hope will help you feel more "like a local" and less like a tourist, while you vacation here in Panama City Beach, FL.

Looking for a good spot on the beach... You'll find lots of locals soaking up some rays and enjoying the gulf, right in front of Schooners Last Local Beach Club, located on the east end of Thomas Drive. This spot is perfect for a day at the beach. If you can't be bothered to pack a cooler, you can take a short stroll up to Schooners to order a frozen drink, ice-cold beer or something good to eat. There's always a game of volleyball going on and typically the sandbars create a nice shallow area for the kids to splash around in.

Shell Island is accessible by boat only (hence the word Island!). It is a natural, undeveloped island that lies between the Gulf of Mexico and St. Andrews Bay. The Local's love this island and you can see many local boats anchored off the bay side, (especially on Sundays). If you want to get out on the water and visit Shell Island, but really don't want the responsibility of navigating the waters yourself, then visit St. Andrews State Park. They have shuttles running back and forth (in the spring and summer seasons), to the Island. It's a beautiful ride over, and if you're lucky you might spot some Bottle Nose Dolphins frolicking around in the pass.

If you plan on eating out at one of our great restaurants here in PCB and you happen to be slap bang in the middle of summer or Spring Break, you can expect to have a long wait. Ways to avoid the one-hour (sometimes one and a half hour waits), are to simply avoid the dinner rush. The busiest times are typically anywhere from 6:30pm – 8:30pm. Most restaurants do not take reservations during peak season and holiday weekends. Expect an even longer wait if your group is larger than eight. So, anytime before 6:30pm and anytime after 8:30pm should cut down your wait time considerably. Also, most restaurants serve the full menu at their bars. So, if you are a small party, see if you can grab a couple of seats at the bar. You'll really be hanging around the locals then and they may share their "local secrets" with you too!