Capt. Anderson's serves an outstanding 250,000 guests during its 8 month season.
By TripSmarter.Com | March 26, 2013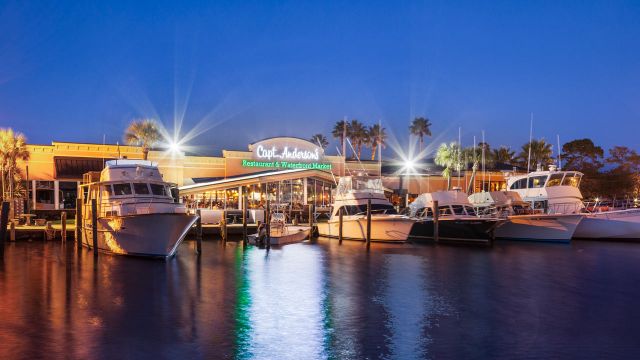 Panama City Beach, FL
Without doubt or discussion, the best oysters in the world come from Apalachicola Bay. In great part, you can thank Capt. Anderson's for this.

The reason Apalachicola Oysters are the best is because of the quality of the water that they come from. The salinity level is high and the pollution level is virtually nonexistent. Equally, these factors are important for both safety and taste. The Apalachicola River is the cleanest river in all of Florida. The salinity level of the river is checked by a biologist at least 3 times a week to ensure the oysters are safe for consumption. The low pollution level can be attributed to the aid given by Capt. Anderson's and other concerned citizens. For years, the Patronis family has been working with fishermen and oystermen preserve the natural oyster beds of Apalachicola Bay. They have helped build artificial reefs and they have been leaders in protecting the coastal ecology. In return for the hard work put in by Captain Anderson's, preserving and replenishing the waters of the Gulf Coast, they are able to serve the best and freshest seafood on a nightly basis. This is why celebrities, tourists and locals alike all flock to feast at Capt. Anderson's.

Just this summer alone Capt. Anderson's hosted celebrities such as; Country music greats Travis Tritt, Darryl Singletary and Andy Griggs as well as Emmy award-winning Jimmy Carter, WPAP's Dr. Shane Collins and Dave Edwards of the 1970's Dallas Cowboys.

Capt. Anderson's serves an outstanding 250,000 guests during its 8 month season. This many satisfied customers can't be wrong, and they aren't. Named among America's Top 50 restaurants, recipient of the "Best Seafood Restaurant" award from Southern Living and Wine Spectator's "Award of Excellence," Capt. Anderson's won Florida Trend's Golden Spoon Award for 15 years before being inducted into the Restaurant Hall of Fame in 2005.

One might think with all the awards and recognition given to Capt. Anderson's the owners would be sitting back relaxing on the white sandy beaches found on the Emerald Coast. However, this is hardly the case. Patrons may be surprised to discover that founders, Jimmy and Johnny Patronis, still work daily shifts at their popular restaurant. The Patronis brothers have pulled alternating shifts almost every day for over thirty years. When one works the "day" shift, the other will work the "night" shift. This commitment to quality is shared by the entire staff at Capt. Anderson's and, for 42 years, has been the main ingredient in this legendary restaurant's recipe for success.