The selection and creativity found on the menu is just the first sign of the excellence to be discovered at Boatyard.
By TripSmarter.Com | March 26, 2013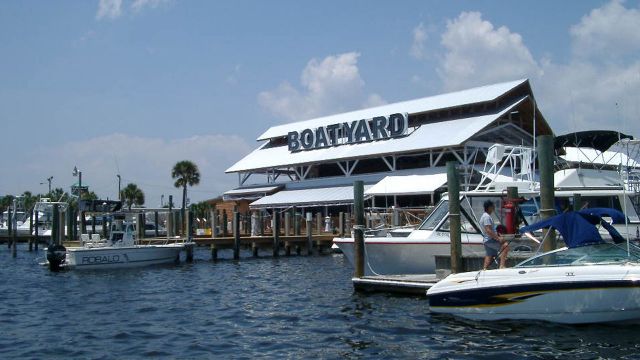 Panama City Beach, FL
Compliments to the Chef at Boatyard. All four of them... and the Sushi Chef... and the Sommelier. With such a talented staff, how could your meal not be amazing? Responsible for it all is Culinary Director Konrad Jochum, who also happens to be the original designer of the Boatyard menu. Once again he has taken matters into his own hands, literally, as he now personally oversees the kitchen. Jochum was born in Berlin, Germany where he grew up in his father's butcher shop and learned to appreciate the importance of using quality ingredients. His first taste of American cuisine was while working in some of Chicago's finest restaurants. Later, he was employed as Executive Chef and General Manager of Key West's most successful restaurants including; Half Shell Raw Bar, Turtle Kraals, Alonzo's Oyster Bar and the A&B Lobster House. Konrad now owns his own place in the Keys, Fishcutters.

If it's the sushi that lures you into Boatyard you have a local to thank for the delicious daily fresh creations. Master Sushi Chef Dan Pettis grew up here on the Emerald Coast and graduated from the Florida Culinary Institute in West Palm Beach (with a perfect 4.0). It was then that he was discovered by famed sushi chef, Roy Villacrusis, and spent 2 years studying with the master. But, since it's nearly impossible to stay away from the beautiful beaches of Panama City, Dan returned in 2003, bringing with him his new understanding of Asian cuisine and love of (the) Caribbean to share with us at the Boatyard.

Chef Daniel Parish is another local who has found his home at Boatyard. He actually grew up on the waters of Grand Lagoon. The area where the Boatyard now sits was once occupied by a bar called "Hurry Sundown" which was run by his Dad and Step-Mom. Daniel has trained under George "Papou" Dracos (Papou's Hearth & Garden), Chefs Doug Shook (Louie's Backyard in Key West), Jeffrey Bracher, Aaron Hallmeyer and Culinary director Konrad Yochum.

Chef Lance Lindaman got an early start in the culinary world at age 14. His first job was making pizzas from scratch with only fresh ingredients. Now 23 years later he's still cooking. He graduated from the Culinary Institute of America, where his focus was seafood. When looking to move to Florida to be near the freshest seafood available he first checked with one of his own favorite restaurants for employment, Boatyard. Luckily, Boatyard offered him a position, and the rest is history... in the making.

Contributing Chef Doug Shook, of Key West's world famous Louie's Backyard, worked for over a year to co-create the fabulous Boatyard menu. Using a combination of his own famous recipes, and a few from renowned Key West chefs, he compiled a menu that highlighted the fresh seafood found in the waters of the Gulf. Shook has worked as the Culinary Director for Louie's Backyard for over 18 years and consults weekly with Boatyard's talented chefs to update and upgrade the menu. Shook's incredible talent has been featured in Bon Appétit and a variety of other national and regional magazines.

The selection and creativity found on the menu is just the first sign of the excellence to be discovered at Boatyard. The menu here is not a copycat of every other seafood joint in town, while the traditional items make the cut there are many other items offering something a bit different. This makes it easy for everyone in your party to find their new favorite from the "Grilled Ham and Brie Panini" to "The Fried Shrimp You Can't Live Without". But, the real proof is in the proverbial pudding or the Grouper in this case, and the proof is right there on your plate nightly thanks to the staff of highly trained and extremely talented chefs found at Boatyard.