The Forgotten Coast is made up of Apalachicola Bay, the wide sandy beaches of St. George Island, Dog Island, St. Vincent Island and Cape St. George.
By Amy Mann - Beach TV | March 26, 2013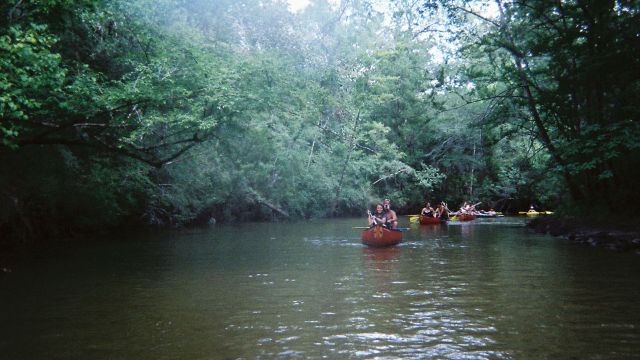 Apalachicola, FL
This past weekend I read the Times Travel Dispatch column on the Forgotten Coast. I had just written about how one of my favorite things to do each Sunday is read this inspirational journal on travel. I found it coincidental that the piece I was currently working on was also about the Forgotten Coast. Considering my weekend research skills consist of fun, sun and the occasional cocktail, it was interesting to learn that there is a Circumnavigational Saltwater Paddling Trail within reach of our markets in Panama City, Destin, Pensacola and Key West. Apparently, a byway sixteen hundred miles long was laid out from 2004 to 2007 by the Florida Department of Environmental Protection, Office of Greenways & Trails.

The beginning of this aqua opus resides ten miles southwest of Pensacola at Big Lagoon State Park. From here the trek extends around the Florida coast all the way down to Key West before turning back north and heading along Florida's east coast to the Georgia border, where it terminates at Fort Clinch State Park. This saltwater route incorporates a system of linked state parks, much in the same way as the Appalachian Trail. The Forgotten Coast resides on a sun drenched stretch of this unique byway.

For those of you not familiar with our gorgeous area, The Forgotten Coast is made up of Apalachicola Bay, the wide sandy beaches of St. George Island, Dog Island, St. Vincent Island and Cape St. George. It is such a wonderland! And, most importantly, it is only a short drive from Panama City Beach.

I can just see myself now: I am in my car with the windows down and my hair flowing behind me. I have a couple of kayaks on top, my dog in the backseat with his tongue hanging out and his innocent face curled into a smile, and someone significant next to me holding my hand. In my daydream I'm on my way to explore our waters from the best view possible. There are miles of uncrowded pristine beaches for sunning and shelling, clear Gulf waters for swimming and even snorkeling. Eagle Rays love to cruise the barrier islands, and there is no doubt the energetic dolphin are plentiful and in a good mood. Much of the area is preserved land which makes for fantastic wildlife viewing. There certainly are not any high rises found on these islands, only quaint beach cottages and breathtaking luxury homes.

So, join me! Hop into a kayak, grab a paddle and discover the Forgotten Coast. But, on your way be sure to stop by one of my favorite water outfitters in our area: Econfina Creek Canoe Livery. It is owned by Debbie Gay and her family. I promise they will take care of you the only way a family business knows how, with a personal touch and attention to detail. This fabulous creek and its local proximity prove that Bay County can hold its own when it comes to your search for intriguing kayaking, canoeing and fun.