Grand Lagoon gives Panama City Beach more reason to be included in history books than one may imagine.
By Miranda McGill - Destination Network | March 26, 2013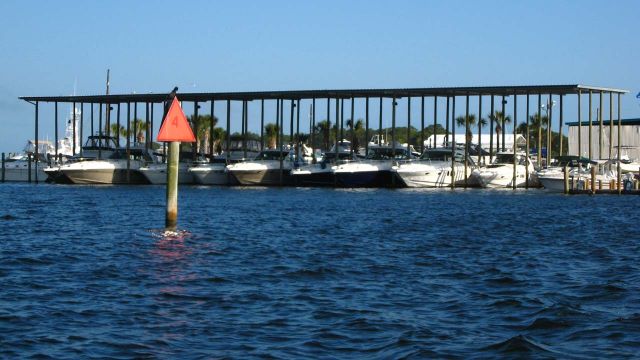 Panama City Beach, FL
When you conjure up images of Grand Lagoon, visions of fried gulf shrimp may dance in your head, but, if you take a closer look you'll learn there is more to this area than a party at the Boatyard or fresh seafood from Capt. Anderson's. Steeped in factual history and pirate lore the historic areas of and around Grand Lagoon gives Panama City Beach more reason to be included in history books than one may imagine.

In fact, many of our local waterways, cities and natural landmarks were named by Spanish explorers hundreds of years ago. This is true for most of Florida... the conquistadors made a practice of naming important navigational landmarks, usually bays and rivers, for Catholic saints. Which is why St. Andrew's Bay was named for St. Andrew -- it was discovered on the day the Catholic calendar designated to the patron Saint, Andrew.

The St. Andrews Bay area was home to Native Americans before it was settled as a community in the 1800s. Pirates found the deep pockets of the Bay ideal to lie in wait for merchant ships in route to Mexico or Spain. Legend has it that many a pirate buried his share of treasure at Spanish Shanty Point on Shell Island.

Written records of these early Spanish expeditions reported sightings of "tall" Indians living in lodges thatched with palm trees along the many magnificent harbors and deep pockets customary to this area. The Spanish explorers built several forts and outposts along the Gulf Coast... one was in a sheltered shallow-water cove on Shell Island, still know as Spanish Shanty Cove. Until the purchase of this land, by the U.S. in 1819, it was a "no man's land" for runaway slaves and Indians.

General Andrew Jackson was infuriated by the lawless nature of the place and brought national attention to the area in 1818, when his army marched through on their way to New Orleans. Jackson was the first American to survey St. Andrews Bay, and his army spent considerable time here. Many of his soldiers and officers returned to live when the territory opened for settlement in 1821. Relocating the Indians became an argument that plagued the area until Jackson signed the Indian Removal Act in 1830.

Now that you know the who first settled the areas around Grand Lagoon it is time you found out who can be credited for making Grand Lagoon much of what it is today. Captain Walter Anderson was a pioneer in developing sport fishing and the beach areas in Panama City. Anderson can be recognized as the sole individual responsible for first developing Grand Lagoon. Before he moved his fleet of boats to the lagoon it was a deserted area. Now the deep channel is enjoyed by thousands of great fishermen every year. In appreciation for his contributions to the area, the channel in Grand Lagoon was dedicated to Anderson in 1972.

The next big boom in the Grand Lagoon came during the 1950's and 60's, specifically, with the development of St. Andrew's State Park in 1951. During World War II, the park was part of St. Andrews Military Reservation. Circular cannon platforms are still in place on the beach near the jetties. Today the park owns over one-and-a-half miles of beaches on the Gulf of Mexico and Grand Lagoon. It has become a favorite spot for tourists and locals alike due to the wide range of activities offered including swimming, snorkeling, scuba diving, kayaking, camping, canoeing, fishing, hiking, boating, and bird watching.

Then in 1967, Capt. Anderson's Restaurant was established. Since opening its doors Capt. Anderson's has gone on to enjoy many awards including Southern Living's "Best Seafood Restaurant" award. In 2005, it was inducted into the Restaurant Hall Of Fame.

Contributing to wonderful dining on Grand Lagoon, The Treasure Ship Restaurant was housed in a full-scale, 200-foot replica of Sir Francis Drake's ship, The Golden Hind. This restaurant was a favorite for both adults and children due to the elegant ambiance, child friendly entertainment, delicious fresh food and of course the exceptional views of Grand Lagoon. Sadly, The Treasure Ship was destroyed by fire in April 2010 and will not be rebuilt. Locals and visitors alike are anxiously anticipating what might replace the The Treasure Ship, hoping for an exciting new chapter for that little piece of land that was home to The Treasure Ship for more than 30 years.


Keeping consistent with excellent dining on the Lagoon, other restaurants started popping up in recent years. One favorite, the Boatyard, brings a new energy and more hungry diners into historic Grand Lagoon. The Boatyard though family friendly, also hosts a bevy of festive weekly and special occasion events, such as Sunday's Sangria and Tapas, Little Black Dress Night and many more. Add these events to a delectable Key West inspired menu and a good time is guaranteed.

Grand Lagoon boosts some of the best fishing and golf in the nation, thanks in large part to the Bay Point Wyndham Resort, which opened in the 1970's. In 1984, the Bay Point Billfish Invitational Tournament was established and has been going strong for over 25 years. The tournament is one of the best in the nation and has received much media attention. At the 2001 tournament a 1,046-pound blue marlin was caught, setting a new state record, weighing in as the world's 14th largest catch. Florida's third biggest blue marlin also was caught in the Grand Lagoon, tipping the scales at more than 998 pounds.

Bay Point is also home to the only Nicklaus Design golf courses in Northwest Florida. A few holes on this beautiful course even offer panoramic views of Grand Lagoon and St. Andrews Bay. The Marriott continuously raises the bar for fine dining, spa treatments, and luxurious accommodations in Bay County.

The newest changes to Grand Lagoon will come in September 2009, when construction on a new bridge over the Lagoon is planned to begin. Thanks to the Friends of Grand Lagoon who dedicated their time and energy to campaigning for a new more environmentally friendly bridge. The new bridge will also "right a past wrong." In 1952, when the state constructed the current bridge they did so by filling in most of the waterway, which was approximately 1056 feet wide before construction began, but was reduced to 949 feet to accommodate the new bridge. The severe narrowing of the waterway restricted the flush out of the lagoon, resulting in shallow water and a reduction in the natural grass and sea life. Construction of this new bridge will allow for a widening of the causeway; Therefore, increasing the water flow and flushing, and enhancing water quality and marine life on the western side of the bridge.

The construction will take approximately 18 months and around 18.5 million dollars to complete. The new bridge will include 4 cars lanes, 2 bicycle lanes and a pedestrian walkway. The total width of the new bridge will be 73 feet 6 inches. The low height of the current bridge severely limits the boat size that has access to the residential section of Grand Lagoon. However, the new bridge will be 8 feet taller, allowing for less restricted access.

As you can see, there's much more to Grand Lagoon than just a place to dock your boat or grab a bite to eat. Long before great food, pontoon boat rentals and banana boat rides there were pirates, Indians, even legendary General Andrew Jackson and Captain Walter Anderson. Now it's the tourists and residents who find Grand Lagoon a fine place to hang out, whether it's for a round of golf on a legendary course, the chance to reel in a record setting catch, a kayaking trip launched from St. Andrew's State Park, or great meal at one of the best restaurants in Panama City Beach, everyone keeps finding reasons to come back to Grand Lagoon, and the new bridge only makes it easier. So, the next time you visit one of these areas just remember that someone was here long before you -- and there may just be a buried treasure below your feet!