Change is inevitable for Panama City Beach.
By TripSmarter.Com | March 26, 2013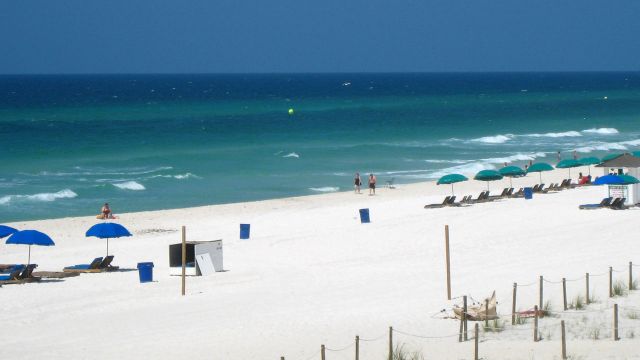 Panama City Beach, FL
There's an old saying…"Change is inevitable…some of it is good, some of it is bad," or something like that. Nevertheless, everything changes all the time and it would be practically fatal NOT to change…the real question is what is our capacity to change and how will we adapt? Perception comes into play…and that's everything…each of us often sees the same thing in different ways and just because everything is different doesn't mean that everything has changed. Are you confused yet? Let's examine what we know…

The "world's most beautiful beaches" will remain untouched and any serious encroachment will ultimately be dealt with by "mother nature!" Hurricane Ivan was recent enough proof of that. The clear emerald water of the Gulf of Mexico isn't likely to change either as long as we continue to keep a close eye on how we handle our environment. Those two factors, the beach and the Gulf, are not only a constant but they're also the main reason so many people choose to visit and live in Panama City.

Serious fishermen who enjoy boating for miles and miles to capture the coveted billfish won't see much change once they're out in the open. Having the wide open sea as your companion is as attractive today as it was hundreds of years ago. The only difference is it's easier to experience with more and more charter boats than ever…king mackerel, red snapper and dolphin make for great family fun and real excitement for men and women who have dreamed of catching the big one!

Sport fishing or angling comes from the Greek "ankos glen" (barbed hook) and the old English "anga hook" or angled hook. The art of fly-fishing was practiced as long ago as 3rd Century AD in Macedonia and it isn't likely to stop any time soon! The modern "angler" is much like a western bounty hunter except his objectives and quarries are respectively far more admirable and honorable. However…he still has to search for, find and capture his quarry…a process that because of its sporting nature develops ingenious and artful methods. The creation and evolution of these methods are proven through the experimentation and results of individual anglers. Every fisherman worth his salt has a proven method and a "big" fish tale to prove it!

The more you know about your quarry (gamefish) and his habitat (saltwater) the better your chances are of catching him. The great thing about Panama City Beach is that everything you need…the boat, the rod and reel…the Gulf and the precise knowledge of how to hook 'em-is readily available…and because of a successful "catch and release" program and improved ecological conditions in the Gulf, sport fishing is here to stay!

When you return from a day on the water, whether it's on a jet ski…a pontoon, sail or fishing boat…that's when you'll notice the "new" Panama City Beach and the towering high rises going up…and up! Let's look at it this way…the more places there are, the more places there are to stay. AND the more places there are to stay, the more likely it is that there will be a tremendous value out there for the renter! More and more mortgages to pay means everyone will need to put that dream home or condo on a rental program. As more and more of these facilities are completed, more rental units than ever will be on the market…supply should be greater than demand, which means more choice and better value on everything from small beach cottages to large gulf-front homes and penthouse apartments…to everything in between…so, what's the problem?

Well, everyone seems concerned about the quality of life on the beach once it is filled with one towering condo after the other…here's where we delve into pure, unadulterated speculation and unfortunately it just doesn't help to leap a twenty-foot chasm in two ten-foot jumps. On the positive side, it's impossible to believe that the beach will be void of the places we've come to love over the years. Of course, it's natural for some to go and others to take their place…but all of them go? Nothing on the beach but high rising concrete monoliths? NO…it isn't feasible…it isn't good "chamber of commerce" and quite simply, it doesn't make sense! But it does make for good gossip!

Schooners, the last local beach club, has its feet dug in as deep as it can get 'em! You must admit, it's almost humorous to see the towers rise around it as if to say, "I'm bigger than you are…so, GO!" Nonsense…we all know that size doesn't matter! Once we become accustomed to seeing that improbable sight, we may even come to think that's the way it always was? We'll still be anchoring our boats and jet skis nearby…swimming to shore for a much needed glass of lemonade and a big heaping helping of peel 'n eat shrimp or one of those awesome grouper sandwiches! The thing that's always been great about Schooners is it's OK to traipse in the sand…it's OK to drip salty water from your swimsuit…in fact, that's exactly why it's called a "beach club." Let's just hope that it's not literally "the last local beach club!"

If you believe the rumors, Schooners was closing three years ago, yet there it remains…the little giant…the train that could! And soooo many people want it to stay right there…they say, if you believe in something hard enough…and long enough…it will turn out to be true! Hang in there…there's nothing to worry about until it happens and so far, Schooners is wide open like always…and it really isn't the last beach club either.

What about Spinnaker? Life is still very GOOD at Spinnaker and those "need two hands to hold 'em" cheeseburgers are better than ever. Last year, the most extreme event of the season, The Annual Zap Pro/Am Spring Skim Jam took place on the Spinnaker beach and everyone enjoyed watching the best in the world skim their way into the record books. Extreme parachuting also swooped its way on to the Spinnaker beach. Swooping is a rough and tumble sport not for the faint hearted but spectators are treated to high performance diving from 1,000 feet at speeds exceeding 80 miles per hour before leveling out only inches above the ground and swooping for more than 100 yards! Plus, you can still party in the Groove Room and Spinnaker's sparkling waterfall and outdoor concert stage don't seem to be going anywhere. The live music and live partying are a FACT!

So there are still a few great places on the beach…to name a few…don't forget about Pineapple Willy's and those awesome Jack Daniels BBQ Ribs! You can still have a real good time on Willy's Pine's Historic Pier and having a quick bite "over the ocean" is about as good as it gets without being in it, right? But…I digress…yes, there is a real need for something on the beach besides a condo…but what about the un-imagined? What is it that could happen that we never imagined? Instead of all the bickering, why not put our energies into discovering or creating the next best thing…or maybe the next better thing. As we look into the future, it's important to remember the words of Anne Frank, "How wonderful it is that nobody need wait a single moment before starting to improve the world!"

We are all a part of making Panama City Beach the great place it is…visitors, renters, locals…everyone plays an important part! The world is our oyster and there's plenty of oysters on the Emerald Coast…all waiting to be enjoyed…just like before, just like now…even in the future. Sure we may have to sacrifice some of what we are for what we could become…but that's just got to be GREAT! For years, Spring Breakers have left their mark on this one of a kind beach and that mark isn't going to disappear overnight either! Yes we're all in for some change, but when you start with the world's most beautiful beaches, it's hard to mess that up! If we all play our part …this beautiful playground should be around for a long, long time! Let's PARTY…but remember…change is inevitable!