For the first time ever, a sitting President stayed overnight in Panama City Beach.
By TripSmarter.Com | March 26, 2013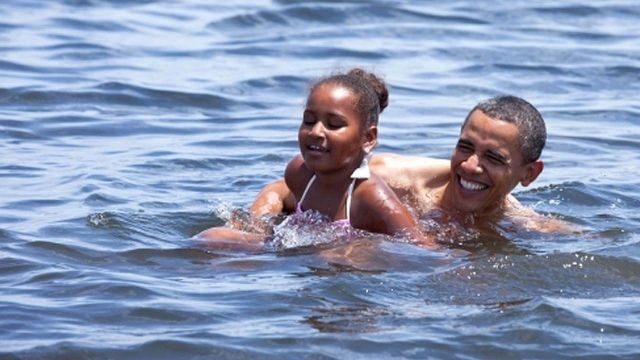 Panama City Beach, FL
As you have probably already heard by now, President Obama, the First Lady and daughter, Sasha, vacationed on Panama City Beach last weekend. It was a short trip, but meaningful to everyone here on the Gulf Coast. This was the first time a sitting President has ever stayed overnight in Panama City Beach, and everyone was thrilled with the positive international exposure we received.

During their visit, the Obamas stayed at the Marriott Bay Point Resort, had lunch at Lime's in Bay Point, played mini-golf at Pirate's Island (Sasha got a hole in one!), ate dinner at Firefly restaurant, took a boat tour around the Bay and enjoyed ice cream at Brusters.

The President and Sasha also took a dip to show that the waters were safe and oil-free, and that took quite a bit of doing! Double red flags were flying on the beach and swimmers were not allowed in the Gulf waters because of dangerous rip tides. So, the Commander in Chief and daughter picked one of the local favorite simming spots… Alligator Point, which is adjacent to St. Andrews State Park, right on the pass leading to the Gulf.

The waters there are safe and calm, but crystal clear – dolphin played nearby and pelicans soared overhead. It was a beautiful thing, and sent a message to everyone that our beaches are clean and open for business! Thank you, Mr. President, and a special thanks to the First Lady who fell in love with our beaches on her first trip and couldn't wait to get back!