This year's race will take place on Saturday, December 7, 2013.
By Amy Mann - Beach TV | November 13, 2013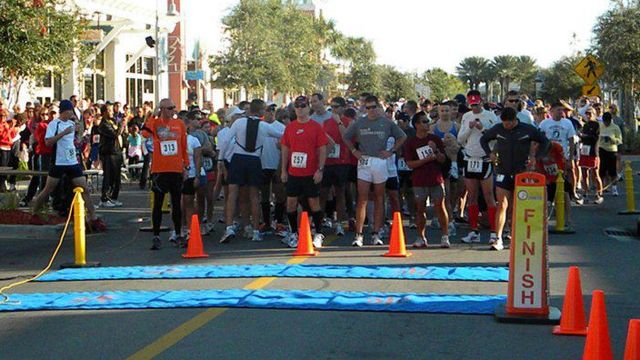 Panama City Beach, FL
A December event that is one of my personal favorites is the annual Run for the Redfish 1/2 marathon and 5K race. I was fortunate to be on the planning committee for the inaugural event in 2009 and as a competitive distance runner, I can speak from experience the caliber of runners this event has grown to attract. High school and college cross-country teams travel hundreds of miles to compete and bring high-energy to the course. The race times for both the 5K and 1/2 marathon drop each year and make the event more of a personal challenge on this certified course.

This year's race will take place on Saturday, December 7, 2013. The course begins at Pier Park Drive and continues west down Front Beach Road /Hwy 98, looping back to end at Pier Park Drive. Most runners crave a nice cold beer after a good race and Jimmy Buffett's Margaritaville is where the after party is, and they roll it out.

The Panama City Beach Chamber of Commerce is the host for the 5th Annual Run for the Redfish. A portion of all proceeds from the event will benefit Ocean Conservancy. Race sponsors include Nike, Pier Park, The Resort Collection of Panama City Beach, Ocean Conservancy, the Bay County Tourist Development Council, Beach TV, GU Energy and Margaritaville. Registration is open at the Beach Chamber, through Runfortheredfish.com, or active.com. The half-marathon is $45; for the 5K it is $30. All runners of the half marathon and 5K will receive the traditional Run for the Redfish long-sleeved T-shirt, and chip timing is provided. Half-marathon racers will start at 8:00 AM, 5K at 8:30 AM, and 10:00 AM for the kid's fun run.

"The Run for the Redfish supports the 'couch to 5K' encouragement aspect for improved health and well-being," Race co-founder and Director, Paul Wohlford, states. "With the Beach Chamber's involvement, the 5th Annual run promises to be the biggest ever, potentially reaching 1000 runners."

Co-founder and Race Director, Steve Bailey, insists that "the run was created to focus on fishing, coastal and community awareness, and leading an active lifestyle as an effort to restore the perception of the Gulf of Mexico and Panama City Beach."