Russell-Fields Pier is now open after more than a year of construction and 8 million dollars invested.
By Miranda McGill | March 26, 2013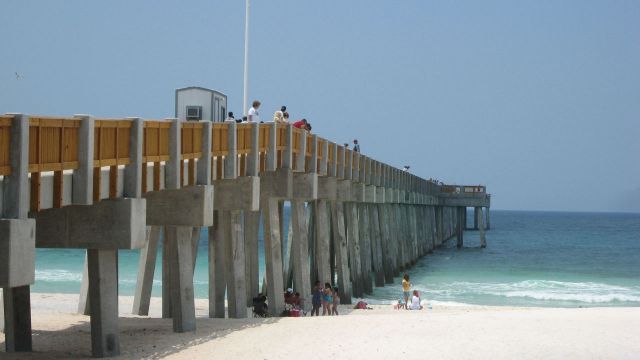 Panama City Beach, FL
Experience the thrill of 8 million dollars for only 2 bucks. Russell-Fields Pier is now open after more than a year of construction and 8 million dollars invested. The new pier is a foot wider, 29 feet longer and 8 feet higher than the old pier making this new and improved pier longer than any other on the Gulf. You may recall that the old pier was named Dan Russell Pier in honor of the city's first mayor. The new pier has been renamed to honor both Dan Russell and Elgin "Popeye" Fields Jr. Fields was the longtime supervisor at city pier, who loved both fishing and people, making him a memorable pier fixture. Fields was known to help untangle fishing lines, jump in after rods, and even stay late for anyone needing a listening ear. Fields passed away in 2001, but will be forever connected to the pier that he felt so passionate about.

The 17 feet wide and 1,500 feet long pier is not only more fun to stroll along but also provides better conditions for fishing. Since the pier has expanded, your fishing stories will need to grow to become a bit "lengthier" as well. The extended length of the pier will make it easier to catch sporting fish such as king mackerel, redfish and Bonita. Also making fishing easier- plans for a 250 foot east-west boardwalk at the north end of the pier that city officials hope will provide space for a bait-and-tackle shop, restrooms, concession stand and ticket booth. After you collect your ticket, buy your bait and grab a hotdog you can walk to the south end of the pier to the 54 feet by 90 feet fishing and observation deck. For the time being plan to pack your own bait and snacks because the proposed amenities area of the structure may take another year to complete, as it is a project separate from the Russell- Fields Pier.

Enjoy the view from the observation deck, but know you can always come back, it sounds as though this pier is here to stay. The new pier was constructed with 500-pound "blow out" deck panels making it a great deal more hurricane resistant than the old pier. So take your family, friends, significant other or your fishing pole to Russell-Fields pier to make your own history on this new landmark.

Fees:

Daily: $2 per person for entry, $6 for fishing.

Seasonal and Annual Passes: $60 for three months or 20 visits, $180 for a year.
(Expire September 30 - Annual passes will be prorated upon date of purchase through September 30).

Additional rod (5 rod maximum, excluding 1 bait rod) $2.

Disabled, Senior Citizen and Active Military pay half of the listed fishing rates. Children 6 years of age and younger are free.