There is something very relaxing about snorkeling.
By | March 26, 2013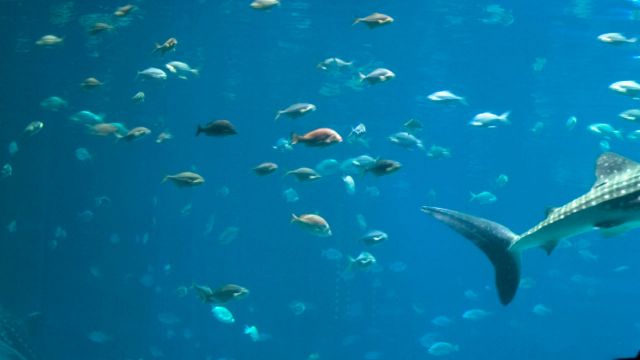 Panama City Beach, FL
One of my favorite things to do when the water is nice and warm is to go snorkeling. There is something very relaxing about snorkeling. It clears my mind. I am so in the moment. Snorkeling is my prozac!

Normally, we take the boat over to Shell Island to snorkel along the jetties or in the bay. I am always amazed at the variety of life down below and have fun trying to remember the names of the fish. Recently I went snorkeling with my husband after we finished work. We drove to St. Andrews State Park and took the short walk down to the "kiddie pool" where the jetties are. This late in the day, we could count the amount of people swimming and walking along the beach on one hand!
I had just bought a new pair of flippers from Divers Den and was looking forward to giving them a try... boy, am I a snorkeling speed demon now! I had a hard time with my old flippers, they were too heavy and stiff so I never used them. Now I have these great light-weight neon green split fins that I just love. Diving down to chase after a school of fish is so much easier now. Never been able to catch one, but I get pretty close!

I love this time of day, the fish were more plentiful and active, the sun was close to setting, so no need for sunscreen and we practically had the whole "kiddie pool" to ourselves. The water was the clearest I had ever seen, it was so pretty.

My husband had recently given me a fish identification card, probably because when we go snorkeling, I am constantly tugging on his arm, pointing at various fish and making underwater gurgling sounds trying to ask him "what's that fish called!" On this particular snorkeling adventure we were lucky enough to see, flounder (thanks to my hubby's excellent fish vision), mango snapper, amberjack, black grouper, neons, the big black and white big stripy ones... sheep's head I think they're called. We also saw sting-rays, needlefish, Stone Crabs and many other varieties of fish that I have not yet identified! We followed the jetties south, towards the beach, and about three quarters of the way down, there is a large opening between the boulders offering a fantastic peek into the deep blue waters of the pass. We stopped to see a large school of mango snapper just hanging out, right in front of us. I am not brave enough to "cross-over" the jetties, my fear of sharks is ridiculously stupid and I keep hearing stories of all the hammerheads out there, so I just hung back and watched all the snapper watching me in my brand new fins. I wonder if the fishermen on the rocks knew they were casting their lines over so many fish. Didn't look like they were catching much!

We decided after snorkeling to walk around the dunes, (yes, we took off the flippers and masks at this point), to the gulf side to watch the sunset, which was my favorite kind – the one where the clouds are just above the horizon, so you kind of get two sunsets for the price of one – once as it disappears behind the clouds and again as it peeks out the bottom of the clouds before fading away and leaving the clouds with brilliant orange and pink outlines. Snorkeling always works up an appetite for us, so we decided to call ahead to place our orders at Flamingo Joes for Joe's signature juicy cheeseburgers. We pulled up to their drive-thru window with wet hair, towels wrapped around our bodies and big smiles on our faces. They must have thought either we were on vacation, or just got out of the shower! We have decided to do this at least once a week after work. It certainly beats watching summer re-runs on TV!