Check out this list of the Ten Best Adventurous Activities in Panama City Beach.
By | March 26, 2013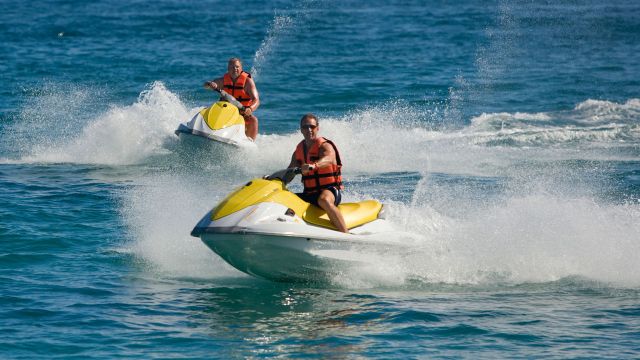 Panama City Beach, FL
10. Airboat Tour or Sea Plane Tour
Take a ride on the "Wild Thang" Airboat in search of alligators, dolphins, and birds of prey. Or take a Seaplane Flight over the beaches for the best view in town.

Who to call: Bay Seaplanes & Airboat Tours 850-234-1532.

9. Jet Skiing
By bay or by sea, this is an activity the whole family will love. Last one in is a rotten egg!

Who to call: Capt. Billy's Watersports 850-814-9712.

8. Helicopter Tour
For a new perspective on the Panhandle, experience the fabulous Gulf Coast with a view from the top!

Who to call: Panhandle Helicopter 850-230-2080.

7. Kayaking or Canoeing
Many places in PCB offer kayak rentals, or, you can take a day trip to Econfina Creek in Youngstown for a change of scenery. With its clear water, limestone walls, lush vegetation and white sand this state protected canoe trail provides a beautiful and relaxing day. Be sure to pack a picnic lunch and snorkeling gear!

Who to call: Econfina Creek Canoe Livery. 850-722-9032.

6. Parasailing
Very few adventurous activities require very little activity on your part. But, if you've come on vacation just to kick back and relax all while still having fun then parasailing is the thing for you.

Who to call: Aquatic Adventures 850-235-8051.

5. Snorkeling
Snorkeling is an adventurous activity that the entire family can enjoy. Just be sure to snorkel in crystal clear water or you will be highly disappointed. Some of the best places are in St. Andrew's State Park and Shell Island.

Who to call: Island Time Sailing Cruises 850-234-7377.

4. Surfing
Okay, so Panama City Beach doesn't always have the best surfing conditions, but it can be done. No one on the beach can help you more with getting started than Mr. Surf, from his daily surf forecast to his wide variety of rental boards and surfing lessons.

Who to call: Mr. Surf's, of course, 850-235-2702.

3. SCUBA Diving
The Panama City area is rated the 2nd best diving spot, and in the top 5 wreck diving locations in the United States. What are you waiting for?

Who to call: Panama City Dive-Ski Center 850-235-3390.

2. Stand Up Paddle Boarding
"Let's go surfing now, everybody's learning how..." stand up surfing that is. Stand Up Paddle Boarding or SUP is a new craze that works well with the waters of the Gulf Coast. It's a full body workout but is an activity that is easier to pick up than traditional surfing.

Who to call: Mr. Surf's 850-235-2702.

1. Kiteboarding
Want to feel like a superhero? Then try kiteboarding, one of the most extreme sports on the water. Kiteboarding defies gravity allowing you to ride waves, jump 40 feet into the air and perform wakeboarding style tricks all without the help of a boat. It's just you, your board, your kite and a little help from the wind and the waves.

Who to call: Emerald Coast Kiteboarding 850-235-4444.