Check out our list of the Top Ten Boating Activities in Panama City Beach.
By TripSmarter.Com | July 15, 2014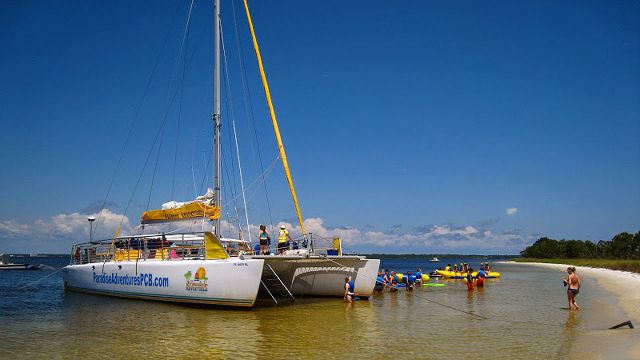 Panama City Beach, FL
1. Paradise Adventures
One of Panama City Beach's newest attractions, Paradise Adventures is a great way to spend a day on the water. You begin your journey at Pirates Cove Marina by boarding the Privateer, a 55-foot Catamaran, with up to 48 other passengers. This luxury sailboat includes a full bar, two bathrooms and plenty of shade and seating to keep everyone comfortable. The trip to Shell Island is relaxing and very enjoyable as you sail through Historic Grand Lagoon. When you arrive at Shell Island, you're greeted by giant inflatable slides and trampolines, a banana boat pulled by a wave runner, stand-up paddle boards, kayaks and snorkeling gear. You'll spend a few hours enjoying the activities (or lounging on the boat sipping cocktails) before you take off to the Pass in search of dolphins, which are very common around Shell Island. Not only do you get to explore one of the most beautiful areas in the country, you also get to enjoy a wide variety of activities all in one trip. For those who have never sailed before, this trip will spoil you - the Catamaran truly is a work of nautical art! And for families with children, this trip provides the opportunity for the kiddos to try all sorts of cool water sports and activities. It's so much fun, you'll wish you could take this excursion every day of your vacation!

2. Kayak the Gulf
Kayaking is one of the latest trends around coastal areas and is popular for plenty of reasons: It's peaceful, serene, environmentally friendly, great exercise, a fun way to explore and a challenging way to fish! Whether you go with a friend, a group or by yourself, kayaking can be a great way to spend a few hours. If you've never been kayaking, it's probably easier than you expect. Most people get the hang of it within just a few minutes and are gliding along through the water like a pro before long. There are a ton of great places to kayak around the area and several outfitters who can take you on guided tours or just deliver kayaks if you prefer to go alone.

3. Canoe Econfina
Canoe down Econfina Creek and enjoy several cold water springs - the perfect answer to a hot summer day! These beautiful crystal clear springs have a year-round water temperature of 68-degrees (F). That's cold. Shockingly cold. But it feels great during the summer when the air temps can approach 100 degrees (F). A few of the springs are rather large (100 ft across or more), and provide a great place to hang out, cool off, grab a snack (or drink!) and have some fun. Bring your snorkeling gear, because there's plenty to see and explore in these gorgeous limestone springs. The springs are connected by Econfina Creek, a slow moving river of water and stunning natural scenery. Go to Econfina Canoe Livery and they'll set you up in a canoe or kayak, then pick you up at the end of the run. It's a 4-5 hour canoe run, so get there early and plan to have some fun! You're also welcome to launch your own kayak or canoe at one of the several landings and boat launches along the creek.

4. Wave Runners and Parasail
What trip to Panama City Beach would be complete without some fun on a wave runner or parasail?! Located behind most resorts along the beach and at all the marinas, you can find outfitters to set you up on guided tours or let you run free with wave runners and jet skis. If you're more into parasailing, many of the same outfitters offer a parasail ride - you can go alone or with a friend!

5. Pontoon to Shell Island
If you're looking to explore or enjoy Shell Island on your own and have a large group, a pontoon boat is the way to go. Rent a pontoon boat at any of the marinas on Grand Lagoon and putter along to Shell Island. These large "party barges" provide a nice scenic trip through the lagoon to Shell Island, where you'll likely see dolphins and maybe even sea turtles. Most of the pontoon boats have large canopies for shade and are pretty steady in the water, so this might be a good choice for families with small children. Just make sure everyone wears their life vests! And keep in mind; drinking and driving laws apply to boating as well... so always have a designated driver!

6. Charter Fishing
Some of the best fishing in the country is around the Florida Panhandle. Whether you choose to stay inshore and catch some trout, redfish, cobia or pompano..... or go offshore in search of larger fish like grouper and snapper, you'll love fishing in Panama City Beach! Experienced captains know how to fill up a cooler on any given day, and after all the hard work (and drinks!), a deckhand will clean and prepare the fish for you. BONUS TIP: Take your fresh catch to one of several local restaurants that offer a "Hook & Cook" special. YUM!

7. Betsy Ann Riverboat
The Betsy Ann Riverboat offers a fantastic dinner cruise for people of all ages. Kids' activities, live music and fresh local seafood make this a good choice for winding down at the end of a long day. Enjoy sunset drinks and watch the dolphins play while you cruise along to live music and fresh seafood!

8. Airboat Tour
The Wild Thang and Swampvette airboats offer a unique way to explore the local area. Both are based in West Bay (just up HWY 79) and are fun for the whole family! Take an Eco Tour around the back waters of West Bay, rivers, creeks and marshlands in search of native Florida wildlife: American Bald Eagles, Ospreys, Heron, Dolphins, Alligators and more!

9. Sea Screamer
Do you like to go fast? Really fast?! The Sea Screamer cruise is an exciting way to experience the awesomeness of Panama City Beach. The spacious and comfortable twin turbo powered 73-foot boat offers a smooth yet thrilling ride. While taking in the scenery, tour throughout the Shell Island waters near the State Park... then go for an exciting 10-mile ride along the world's most beautiful beaches.

10. Pirate Cruise
Ahoy mateys! The Sea Dragon is an 85-foot modern day replica of ships that plundered the waters around Panama City Beach centuries ago. Parents can sit back and relax in the shade and enjoy a few drinks while the crew keeps the kids occupied on the lower deck with all sorts of fun pirate activities. A full bar, restrooms and plenty of seating make this 2-hour journey very comfortable. Kids get to have sword fights, swab the deck, fire the "Kid cannon", read a treasure map, find a sunken treasure and share the loot. Passengers also enjoy the beautiful scenery, dolphin sightings and more.