Check out this list of the Ten Best Kids Activities in Panama City Beach, FL.
By | March 26, 2013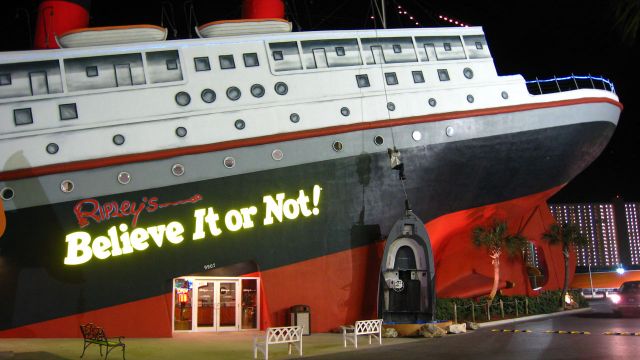 Panama City Beach, FL
10. Children's Area at Pier Park - Complete with a carousel, coconut climbing wall and moon bounce, the children's area at Pier Park offers a variety of "pay to play" activities such as these and many more. You will also find a child size train running throughout the area, and a few other attractions like Paint N' Place (paint your own pottery), Mirror Maze & Laser Craze and The Grand Theater. After all that playing take your pick for a sugar rush -- Marble Slab, Candy Maker, Popcorn Kingdom, Kilwin's Chocolates and Ice Cream, Great American Cookie Co., and Starbucks for mom.

9. Gulf World Marine Park
See live animal shows and wonderful exhibits kids will love and learn from. Call 850-234-5271 for more information.

8. Hidden Lagoon Super Race
Start your engines! The track at Hidden Lagoon is one of the best and longest courses on the beach. Call 850-233-1825 for more information.

7. Pirate Cruise - Sea Dragon
Ahoy Mateys! For a different spin on sightseeing the kids are sure to love, walk the plank to board the Sea Dragon. Set sail with friendly pirates on this 80 foot authentic pirate ship. Call 850-234-7400 for more information.

6. Zoo World
Lions and tigers and bears! Oh my, look what fun can be had at Zoo World! With over 300 types of animals including twenty endangered species, your kids are going to want a new pet before heading home. Lucky you, hermit crabs are sold in abundance in PCB and are cheap and won't live long. Call 850-230-1243 for more information.

5. Gran Maze at Coconut Creek
An A-MAZE-ING time for the whole family. Mom and dad shouldn't opt out of this one, it really is fun for all ages. Giant walls create a human sized maze with four checkpoints that all must be found before finding your way out. First one to make it out wins! Call 850-234-2625 for more information.

4. Ripley's Believe it or Not
You can't miss the giant ship that is home to Ripley's and all of the oddities found inside. After being amazed in the museum, move on to the movies at Ripley's 4D Moving Theatre to experience the ride of your life! Call 850-230-6113 for more information.

3. Goofy Golf
Lee Koplin, the inventor of Goofy Golf created this as his biggest course. He even lived on site. This place is still owned and managed by Koplin's son, as has remained almost unchanged since opening in 1959. Call 850-234-6403 for more information.

2. Shell Island
Escape the crowded beach for quality family time. If you get your kids trapped on a boat they'll have to talk to you. Pack a picnic, plenty of beach games and snorkel gear on your rented pontoon boat and head over to beautiful and pristine Shell Island for the day. The best part is that there are no other tourists or tour guides on your boat, you are the captain -- but don't fret, it's a mere 5 minute trip. Call Shell Island Boat Rentals at 850-234-7245 for more information.

1. Shipwreck Island Water Park
I know, I know, number 2 on this list sounds much more enticing than the number 1 pick, but you're not a kid. Kids love water parks. Maybe its just another way to drive their parents crazy... but they do have a blast. Tickets here can get pricey when purchasing for the whole family but, if you plan to come back to PCB this summer check out the season pass for $96. Call 850-234-3333 for more information.