Check out this list of the Ten Best Things To Do In Panama City Beach.
By | March 26, 2013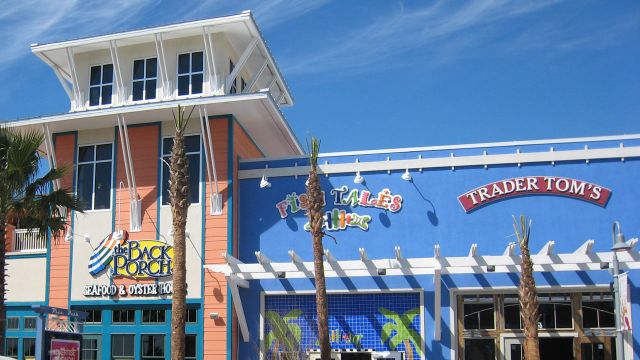 Panama City Beach, FL
10. Party
Spring break or not, there are always more than enough people in Panama City wanting to let their hair down, dress up, go out and drink it all in. Find the crowd and a few friends for the night at Coyote Ugly, Miss. Newby's, Tootsies, Spinnaker, Club La Vela, Schooners or Harpoon Harry's.

9. Fish
Simple and cheap or a go all out on chartered boat, either way you want it there are plenty of fish in the sea and just as many ways to hook them. Looking for simple then fish off the jetties at St. Andrew's State Park or Russell-Fields Pier. The newly rebuilt pier is longer and makes it much easier to reel in sporting fish such as King Mackerel, Bonita and Red Fish. But, if you're looking to do a little deep sea fishing (and a lot of drinking) then check out our directory pages under "Charter Fishing and Water Sports" for a complete listing of companies and reviews.

8. Shop
From clothing to collectibles to consignment Panama City Beach is bound to have just what you're looking for. To enjoy the beautiful Florida weather while you shop Pier Park's your place. But, don't over look the deals in downtown Panama City from local shops to large department stores. And for souvenirs you gotta go to Alvin's Island or Shipwreck LTD.

7. Listen to Live Music and Dance the Night Away
Live music just goes with the laid back local lifestyle of Panama City Beach. Any given night you can find a great band no matter your musical taste. Try Sharky's, Schooners, Tootsie's, Hook's, or Harpoon Harry's, while many other places also offer live music these places have live acts more often than not.

6. Relax
Throw that Crackberry in the back of the car and forget about it until time to go home. Panama City Beach is a great place to just unwind and live stress free for a few days. That's because no matter what your idea of a relaxing day is, we've got you covered. Is it sipping Pina Coladas in the sand or shopping 'til you drop? Or perhaps it's playing the perfect round of golf or waiting on a bite from a big one? Maybe it's indulging in delicious local food or splashing around in the pool with your kids? Whatever your ideal day is, you can make it happen in Panama City Beach.

5. Golf
This one is a no-brainer. Florida has the best golf courses in the nation and Panama City Beach is no exception. Two of the best on the beach include Bay Point Marriott and The Hombre.

4. Try Something New
Check out the TripSmarter.com article "Ten Best Adventurous Activities" and you'll surely find something new to try from kayaking to kite boarding and Snorkeling to SCUBA diving. What better time to try something new than on vacation? Here, you actually have the time to do it.

3. Play
Play mini golf, play pool, play tennis, play beach volleyball, play with your kids, play in the ocean. It doesn't matter what you do, but you are on vacation so you deserve to indulge your inner child (and your children) and just play. Panama City Beach has plenty of attractions to help you feel like a kid again including: Rock It Lanes (bowling and billiards), Ship Wreck Island Water Park, plenty of mini golf courses, go kart tracks and anything else you could possibly want to do to have fun.

2. Eat
Wow! Everyone has their favorite places, and while many overlap some don't- that's because there are just too many great restaurants in the area. All I can offer are my personal favorites which include: Boatyard, Uncle Ernie's, J. Michaels's, Spinnaker, Hunt's, Saltwater Grill, and The Treasure Ship.

1. Visit the Beach
After all, this is the reason people come here. The powdery white sand, clear turquoise water and sunny skies make even the grumpiest grouches feel as though life's a beach. Build sandcastles, swim in the ocean, lie in the sun, jump on the banana boat, drink a banana daiquiri, parasail through blue skies or Jet Ski through emerald water. Whatever your beach style, the options are there… just waiting on you to come out and sink your toes in the sand.