When it comes to vacation fun... Panama City Beach has it all! Check out our list of the ten best ways to have fun while visiting!
By | August 14, 2013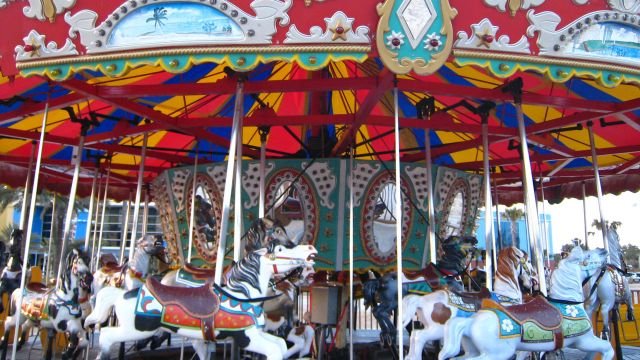 Panama City Beach, FL
Frank Brown Park
When it comes to parks in Panama City, this is the "big-daddy" of 'em all with over 200 acres of outdoor fun... even better, it's open all year long and there's something for everyone! If you need to take a break from the heat, make the Olympic size pool at the Aquatic Center your first stop. Besides a refreshing cool down, you can also sign up for your scuba diving certification, take a water aerobics class or participate in one of the many swimming-related events for swimmers and non-swimmers of all ages. But if another sport tops your list, you can bet that it's happening at the park. Can you say, 17 sports fields for soccer, basketball, football and baseball? Yet there's still plenty of "park" for walking, hiking and biking... tennis courts, a fishing pond and even a dog park for all your best friends. Frank Brown Park also plays host to some of the biggest musical stars on the planet and it's the home of the Grand Slam Battle at the Beach Baseball Bash, as well as the Thunder Beach Motorcycle Rally, just to name a few! Got Park? Yes, we do... so, check it out and have yourself a little FUN in the sun at Frank Brown Park!

Miracle Strip at Pier Park
When the original Miracle Strip Amusement Park was forced to close in 2004, Panama City lost one of its main attractions. This beachside amusement park had been entertaining visitors and locals alike for more than 40 years and it seemed like the end of an era. Then a different sort of "miracle" occurred, practically before anyone had time to really mourn the passing of Miracle Strip. It was 2009 when many of the "Miracle Strip" rides were recovered and restored to their former glory by the super mall on the beach, Pier Park! Now, many of the best parts of Miracle Strip are located in the very center of Pier Park and it continues to grow every year with outstanding rides that are fun for the whole family. These happy riders also enjoy views of the Gulf from the tip-top of the Ferris wheel and the bright lights of this special amusement park seem to beckon everyone that comes to Pier Park, especially if there are kids in tow! At present, Miracle Strip at Pier Park not only features a Ferris wheel, but a colorful Carousel, T-T-T-Tilt-a-Whirl, swooping Red Baron Planes and the beloved Eli Bridge Scrambler from years past... and more! So, step back in time while you shop, dine, drink and generally have a whole lotta fun at Pier Park and enjoy the "Miracle Strip" that refused to die! Boy, are we grateful!

Wonderworks
When it rains, head inside if you don't want to get wet... but inside is a lot more fun at Wonderworks than inside any hotel or condominium. The story of Wonderworks is a long one, but basically a top-secret research laboratory in the Bermuda Triangle (wink) got caught up in a swirling vortex that carried it thousands of miles, eventually landing upside-down on top of a surf-shack in Panama City Beach. OK, good... and even more amazing, all of the most interesting experiments and important equipment remained intact AND functional. There's only one problem, everything is still upside-down... but once you step into the inversion tunnel and everything is magically turned right side up... the FUN begins in earnest! Everything inside Wonderworks is hands on and practically impossible to describe with more than 100 amazing exhibits. Imagination is on full display here and this inspired playground is just about the bees knees for kids... and adults, too!

Panhandle Helicopter
There's no better view of the "world's most beautiful beaches" than a bird's eye view, but unless you have super powers, you'll probably need a little help. In Panama City Beach that means calling Panhandle Helicopter. It's the perfect way to hover over the Emerald Coast and needless to say, the view is, in a word... incredible! Tours are designed for the amount of time you want to stay up in the air and before you start to tremble at the very thought of going up, up and away in a helicopter, these aircraft are maintained according to the highest FAA standards and safety is number one with all of the commercially rated pilots at Panhandle Helicopters. That being said, it's hard to imagine anything more fun or more amazing than a ride in the sky with the whole family, or someone you love? One thing's for sure, your kids will be smiling from ear to ear and memories like this will last for a lifetime. Look! Up in the sky... it's Panhandle Helicopters!

Zoo World
It's hard for some to believe that there's a real, live zoo on the beach, but Zoo World has more than 250 animals, including exotic and endangered species that all live in a lush, tropical (what else) setting! FUN, however, is never endangered at Zoo World and it's a fantastic way to spend a little "up close and personal" time with big cats, primates and reptiles, just to name a few. It's educational, too, with live shows that take you on an around the world adventure with parrots, wolves (yes, you can get your picture taken with a lone wolf), alligators and a "Going Wild" show that introduces zoo goers to an Australian blue-tongued skink and a ball python... by the way! Zoo World's "Keeper for a Day" program offers a hands on experience with animal husbandry and your own private encounters with the Zoo's biggest stars! If you plan on being in Panama City for 3 months or more, Zoo World also has an interactive intern program that can be applied to college credits or simply as an exotic addition to your adventurous resume. No matter what you do at the zoo, the fun stops here and actually lives here. Best of all, come back next year and get reacquainted with all your new animal friends! Elephants never forget, right?

Econfina Creek Canoe Livery
Nothing could be finer than to be on Econfina... all day long! Econfina Creek that is, home to fresh water springs, limestone banks and an unspoiled beauty that's best seen and enjoyed from inside a canoe or kayak. No experience is needed and only moderate physical ability is required as you float down the creek with a paddle and the current! You'll float by multiple deep, clear water springs perfect for swimming... especially on a hot day! Econfina Creek Canoe Livery is also within easy driving distance of Panama City-minutes, not hours away! It's a perfect alternative to a day at the beach and the thick, green canopy that arches over much of the creek keeps everyone cool as a cucumber! Swim, snorkel or bring a picnic to enjoy along the way... and when you reach your final destination, the good folks at Econfina Creek Canoe will be waiting there to take you... and your canoe back to where you parked and began this one-of-a-kind adventure. It's a family-owned and operated business that could not be more fun, or more different from all the hustle and bustle that surrounds the beach, especially in season. Paddling along Econfina Creek, it's actually possible to go for hours without seeing any signs of civilization and hear anything more than "nature's serenade." Reservations (and good directions) are always a good idea-so, just call 850-722-9032 and organize a little fantasy adventure of your own out on the creek... what else?

Aquatic Adventures
One of the absolutely "must do" things to experience in Panama City Beach involves the water... and the Gulf of Mexico, to be precise! NO ONE can show you more fun on the water than Aquatic Adventures. Whether it's a pontoon boat on the Bay for the whole family, a snorkeling or dolphin encounter on a speedy little jet-ski or parasailing high in the sky... Aquatic Adventures has something for everyone. Best of all, when you book with them, they'll pick you up and it's FREE! This is near the top of the list because they offer FUN in a BIG way and it's all about being out on the famous, emerald green waters of Grand Lagoon and the Gulf of mexico!

Shipwreck Island
When it comes to getting wet and wild all over, it's hard to beat Shipwreck Island, Panama City's only waterpark! For more than 30 years, this has been one of the best places to cool off and have a little FUN that's all wet... and the soaking comes in all shapes and sizes, perfect for young and old alike! Well, there's a tipping bucket inside "Skull Island's" pool or cove that slowly fills with 750 gallons of water before tipping over and dousing everyone waiting below in eager anticipation... now, that's refreshing! Tadpole Hole is where it's at for kids with its own little water world of children's activities. And who wouldn't enjoy swinging out on a cable from a replica of a 17th Century sailing ship, then dropping off and falllllll... ing into a deep water lagoon? In addition, there's a wave pool, plenty of racing slides, more than a few raging rapids and a Tree Top Drop of 65 feet through a dark tube of super-slidin' fun... but it's the Lazy River that attracts guests who just want to relax as they meander down a slow-moving river on a super-comfy inner tube. And that's how you live the good life at Shipwreck Island!

Shell Island
Not everyone knows about Panama City's only deserted island... pristine sugar-white beaches, sand dunes, shimmering turquoise coves perfect for swimming and the rolling surf of the Gulf! Though it's really close to, well... the beach, you really can't swim there; so, you gotta take a boat and that means renting one, or going on a "3-hour tour," or something like that. Plenty of tour operators will take you there, including the Capt. Anderson III at Capt. Anderson's Marina, or Shell Island Boat Tours on Thomas Drive... even our number one choice (that's coming up next) has tours from the park to Shell Island. No matter how you get there, it's important that you do... and plan on spending the day collecting shells, swimming and picnicking on the beach. Just remember that anything that comes with you must return with you-not just the kids, but any garbage or soda cans, etc. that you may have brought with you. It's truly an island paradise and one that's only a hop, skip and a jump from Panama City Beach... on a boat, that is!


St. Andrews Park
This is the only State Park in Panama City and it's well-known and much loved for its white sandy beaches and emerald green water. Water sports enthusiasts can enjoy everything from swimming and scuba diving to kayaking or canoeing on the Gulf of Mexico and along historic Grand Lagoon. Anglers enjoy two fishing piers, a jetty and a boat ramp right in the park. For nature lovers, two walking trails wind through pine forests and a rich diversity of flora and fauna. There's sunbathing on the beach (of course) and a concession stand for snacks, drinks and fishing stuff; plus, there's a full-facility campsite that makes this a popular overnight destination, too. You should plan ahead and make this part of your next vacation if possible and enjoy a night under the stars at one of the waterside campsites, perfectly designed for picnics and s'mores! What else could you want, and that's why it's #1 on our list of the best ways to have FUN in Panama City Beach... and believe it or not, there's plenty more where these came from-next time!