The Panama City Beach area offers great dining options for breakfast and all of them offering healthy options too.
By | February 17, 2014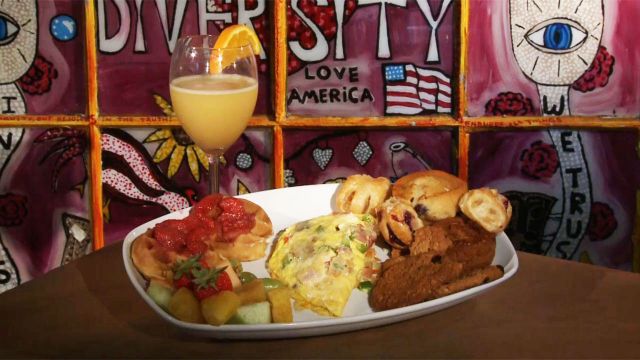 Panama City Beach, FL
Start with the most important meal of the day – breakfast! The Panama City Beach area offers great dining options for breakfast and all of them offering healthy options too. My favorite list consists of places I like to go for breakfast meetings, take family to while they're visiting and on the weekends with my boyfriend. They're not in order of preference, just my favorite ten breakfast spots.

Liza's Kitchen is family owned and operated that serves a brunch menu every Saturday and Sunday. One of my favorite items is their breakfast sandwich because the cat head biscuit is worth every calorie. They're just like the ones your grandmother made from scratch. Don't forget to order the mimosa bucket!

Andy's Flour Power is just around the corner from my house and during morning runs I can smell the bacon on the grill. They have a great variety of breakfast choices and they're served daily. My usual choice is the vegetable frittata and if you get there early enough, pistachio muffins and chocolate croissants will be calling your name.

Thomas' Donuts is on the west end since 1971. The only difficult choice is which flavor of donut to choose. They serve a regular breakfast menu too, but you can't go there without getting a donut or two. The best way to enjoy the donut is to cross the street and sit on the sugar-white sand with your sugar donut.

Mike's Café & Oyster Bar is open daily for breakfast, lunch and dinner. Located in the middle of Panama City Beach and it is a locals' favorite. TTheir omelets are works of perfection... so you can't go wrong and they're quick to keep your coffee warm.

St. Andrews Coffee House is one of the first true coffee houses that opened in Historic St. Andrews in 1998, family owned and operated and a locals' favorite. They take pride in their beans and only use the best that they roast and ground fresh daily. Think of this place when you want the perfect European espresso and the perfect bite to start your busy day.

Amavida Coffee & Tea is nestled in Historic St. Andrews open 7 days a week, fairly new to the neighborhood, but not new to the Gulf Coast. They have specialty grade coffee, delicately loose leaf teas and healthy food options to please the appetite.

Another Broken Egg is pretty famous in the southeast and it's tucked away in Panama City Beach on Hutchinson Blvd. They're known for their large portions and creative menu.

First Watch is going on well over a year now in Panama City Beach and is popular among local athletes and like-minded people that are making healthy choices. They're open daily and have a great selection of breakfast items such as the power wrap and the lean machine – if that doesn't get you motivated for your day, I don't know what will.

The Egg & I on Thomas Drive across from the Navy base is yummy! They specialize in a variety of ways to make great egg dishes. Their omelet selection is plentiful and one of my favorite items is the Viva la France. Yep! You guessed it, French Toast.

Fatty Patty's is a family owned and operated café, who also specializes in amazing desserts. This is another locals' favorite for breakfast and lunch. They know what they're doing when it comes to fresh biscuits, home fries and options for how you'd like your benedict prepared.

Hope my list of excellent breakfast spots helps you decide. You cannot go wrong with any of the above. When you want to make any of these dining options even better, take a long morning walk on the beach after your meal.