Check out our list of the top ten places to grab lunch in Panama City Beach, FL!
By Ashley Capps - Destination Network | October 14, 2013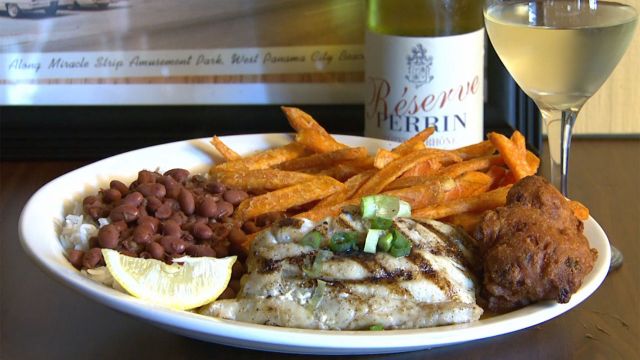 Panama City Beach, FL
It's that part of the day we all look forward to...lunch time! A chance to take a break from work during the week, gather with friends on the weekend and quiet that growling noise in your tummy! So, when it gets to be that time, here are my suggestions for the best places to grab lunch in Panama City.

Flamingo Joes
Located on Thomas Drive, from the outside this place may look like nothing fancy, in fact some have even referred to it as a "dive," but the food inside more than makes up for the quaint outward appearance. Great burgers, fish tacos and my favorite...the Bubba Gump (grouper filet topped with four shrimp and served as a sandwich). The red beans and rice are really tasty too!

Marina Cantina
Modern Mexican cuisine with a beautiful view. Located right on historic Grand Lagoon, you won't find the typical Mexican menu here. Latin food with an American flare mixes for a unique variety of entrees, but if you are looking for something more traditional try the quesadillas...simple but delicious!

Dee's Hangout
Chef Dee Brown has been a local celebrity chef around these parts for quite some time and once you taste the food at Dee's Hangout you'll know why! Raw oysters, po-boys, soups, salads and a great selection of Cajun/Creole entrees keeps this place busy with locals and visitors alike!

Boatyard
The open air deck here is amazing! Boatyard boasts a beautiful view of Grand Lagoon and a fantastic menu that features many Key West inspired dishes. Chef Konrad Jochum owned and operated several restaurants in the Keys before moving to PCB to help open this two story, beautifully decorated, local's favorite! Try the fish tacos...they're amazing!

Los Antojitos
Ask any local and they'll tell you the best place in town for traditional Mexican cuisine is Los Antojitos! At lunch this place is always packed, but the service is great and the food is unbeatable! You'll find all your favorite Mexican dishes here made perfectly...and if you don't have to be back at the office too soon, try a handmade margarita! Yum!

Spinnaker
Spinnaker used to be known as a world famous nightclub, and while it still knows how to throw a party, it may surprise you to know you can also find some of the best salads, sandwiches and pastas on their lunch menu along with a gorgeous view of the Gulf of Mexico. The building itself has had a major facelift and looks outstanding! Great place to treat friends and family from out of town!

Andy's Flour Power
Super cute café/bakery where you will find delicious lunch items and daily specials. The service is always quick and friendly and everything is made fresh, which makes this a very popular choice for business people on a limited lunch hour. There is also a bakery that makes the most amazing muffins and cookies you've ever tried. On a side note, if you get there before 11am they also offer a fantastic breakfast menu as well!

Schooners
Known as the Last Local Beach Club, Schooners has been a landmark on PCB...well, forever it seems. You definitely won't find anything fancy about it. In fact, Schooners prides itself on being known as a "beach shack," but that's part of what makes the atmosphere so great and the view of the Gulf of Mexico is unbeatable! Lunch choices vary from fresh seafood and salads to the famous Schooners cheeseburger. Portions are large and the staff is always friendly!

Uncle Ernie's
I usually tend to dine on the beach for lunch since that is where I live and work, but I will always make an exception to cross the bridge for this place. Uncle Ernie's is a beautifully restored old house with a fantastic back deck that overlooks St. Andrew's Bay and the adjoining marina. They offer lunch specials daily, but my favorite item on the menu is the homemade cheese sticks...they are the best I've ever had!

Liza's Kitchen
What's not to love about this place? A tiny little gourmet sandwich spot that makes everything fresh from scratch. I've tried just about everything on the menu here and have never been disappointed! The Portabella mushroom, eggplant, red onion, avocado, cucumber and goat cheese sandwich is my favorite! They also offer fantastic homemade soup of the day selections. This place is a must try for anyone visiting or living on PCB!