Panama City Beach's largest indoor attraction, WonderWorks opened its doors in 2010.
By TripSmarter.Com | March 26, 2013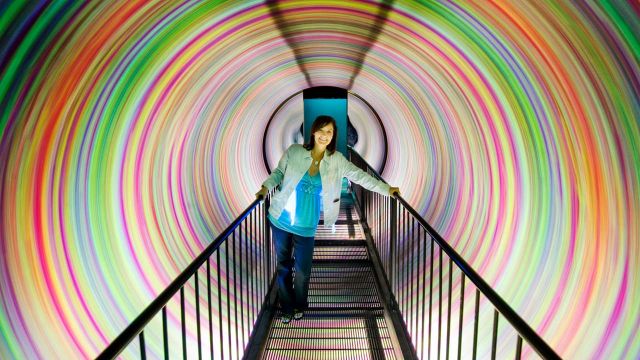 Panama City Beach, FL
Panama City Beach's largest indoor attraction, WonderWorks opened its doors in 2010. The four-story, 39,000-square-foot, family entertainment complex is filled with more than 100 interactive hands-on exhibits, a ropes course, Lazer Tag, video games, a gift shop and more. Make a day of it – try the Xtreme combo package which includes admission to Ripley's Believe It or Not!, located right across the street.

The WonderWorks experience includes virtual, physical and mental challenges, natural disasters, out of this world space and military missions, the far out illusion gallery and much more.

Lazer Tag
Each guest will be given a vest before entering the 3,000-square-foot, lighted Lazer Tag maze. It's an exciting, heart-pounding adrenalin rush using the latest innovative laser technology. You can play one-on-one, or as a team which is ideal for groups.

Hurricane Simulator
Have you ever wondered what it would feel like to be in a hurricane? Step into WonderWorks Hurricane Simulator and you will be blown away by a 74mph hurricane, as measured on the Saffir-Simpson Hurricane Scale.

Xtreme 360˚ Bike
Have you heard of a bicycle built for two? It's been around for 100 years or more. WonderWorks has literally put a new spin on tandem cycling with its novel 360° Bike. The faster you peddle the more you revolve upside-down. It's almost like a two-person roller coaster with a spinning over-the-top motion.

WonderWorks Wonder Coaster
Each guest will become the pilot and designer of this virtual roller coaster where they can choose coaster segments to suit personal preferences – loops, corkscrews, flips, barrels, spirals, drops, tunnels, travel backwards, or leave it up to the computer to create a mystery design.

Ropes Challenge Course
Located on the fourth floor, guests will be challenged by the three-story rope ladders and parallel rope bridges, where dexterity, balance and focus must come together in order to successfully complete this human spider web. Safety is always the first consideration, and the lanyard harness system keeps both large and small competitors just inches from the apparatus if a misstep is taken.

Bed of Nails
How about lying on a bed of nails? 3,497 of them to be exact! Guest's will have the opportunity to lie on a bed of nails where the nails will evenly distribute on a rigid bed rising – ever so slowly, until the guest is resting on points of thousands of nails.

Mindball Mental Challenge
Mindball pits two participants in a unique mental contest. Participants square off at opposite ends of a table. Each participant is seated and wears a headband that measures the brain's activity. The more calm the brainwave – the better. The round Mindball is placed in the center of the table – equal distance from each participant. Mindball relies on calmness to measure a participant's success. The goal is to be more relaxed than your opponent, in order to move a physical ball away from you and into your opponent's goal... ultimately winning by relaxing.

Far Out Illusion Gallery
When you enter WonderWorks Far Out Gallery you've taken a step into a world of unique perception and perspective. You will marvel at the dimensional artwork where the top may appear to be the bottom and vice-versa. The Far Out Illusion Gallery offers a palette where the inexplicable will come to life and the unusual will become the norm.

WonderWorks Panama City Beach also offers group discounts, combo packages and welcomes school field trips. Educational lesson plans are available for elementary, secondary and middle school teachers. All WonderWorks educational offerings meet Florida Sunshine State Educational Standards.

For more information, visit wonderworkspcb.com.