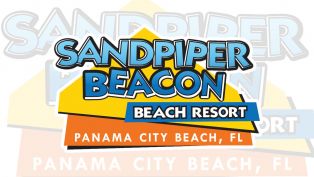 The Sandpiper Beacon Beach Resort & Tiki Bar is a lively, family-friendly beachfront hotel-resort in Panama City Beach, FL. Known as the "FUN Place!" because of the numerous on-site amenities and planned, family-friendly activities on offer all year round. Guests can unwind and enjoy the beachside hot tub, multiple indoor & outdoor seasonally heated pools, heated indoor lazy river ride, and on-site miniature golf course. There are also waterslides, pool tables, a beachside children's playground, and an arcade game room, ice cream shop, and beachfront deli serving breakfast lunch and dinner.

Coupled with the planned family-friendly activities, this makes the Sandpiper Beacon one of the most kid-friendly (and pet-friendly) hotels in Panama City Beach. Guests can take part in family karaoke in the Tiki Bar, fun scavenger hunts, beachside bingo, family craft hour, XBOX Kinect contests, and more! In fact, there's so much to do right here, that many guests never leave the resort during their vacation!

Some of the seasonal fun at the Sandpiper Beacon includes incredible live performances from internationally known bands on the Tiki Bar's main beach stage during the annual Thunder Beach motorcycle rally. Never any cover, everybody is welcome to "Get Freaky in the Tiki". The Tiki Bar is also home to a popular college & high school Spring Break each year, where live DJs entertain thousands of students, from all over the world each week.

Why not enjoy special seasonal entertainment at the Sandpiper Beacon, including authentic Polynesian Fire dancing shows? During certain times of the year, and at no extra cost, you can experience a taste of the islands in the Tiki Bar, and even learn how to hula! Guests are invited to participate in this interactive, lively performance, which takes place at dusk.

Guest staying at the Sandpiper Beacon can also take advantage of an incredible 25% discount on all watersports, conveniently located directly on the beach behind the hotel. From jet ski rentals, banana boat rides, parasailing, stand up paddle boarding and more.

If you're looking to relax and unwind, you can do that too. The tropically landscaped back deck is lined with BBQ grills that are available for all guests, as well as ample seating offering spectacular panoramic views of the Gulf. There are also several "hidden", tucked-away spaces surrounding the Tiki Bar with outdoor seating, fire pits, and hammocks. Lay back with a tropical drink in your hand, and enjoy the cool breeze blowing through your hair.

The layout of the resort makes it very easy to navigate, and learn quickly. Plus, with Sandpiper's guest services, maintenance and housekeeping staff available 24 hours per day, no matter what might happen, we're ready to take care of anything you need.
Ammenities:
Activities
,
Bellman
,
Cable
,
Coffee
,
Kitchen
,
Laundry
,
Lounge
,
Meeting Room
,
Microwave
,
Pets
,
Pool
,
Refrigerator
,
Restaurant
,
Safe
,
Suites
Children:
Activities
,
Pool
Res Cancel:
14 nights prior to arrival
Reservation:
800-488-8828
Smoking Rooms:
Yes
Listing Management:
Update Business Details
MOST POPULAR
Articles
Videos
Directory
Website:
Sandpiperbeacon.com
Location:
17403 Front Beach Rd
Panama City Beach, FL 32413
Phone:
850-234-2154
YELP Reviews Coming Soon!
Google Reviews Coming Soon!