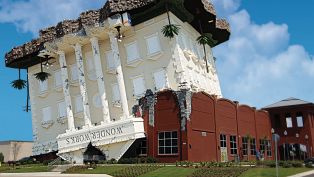 WonderWorks is an amusement park for the mind with over 100 hands-on exhibits to spark the imagination and challenge the mind. Experience hurricane-force winds, land the space shuttle, pedal the Xtreme 360 bikes, become a human lightning rod by touching 100,000 volts of electricity, lie on bed of 3,500 nails, design and ride a virtual roller coaster, play virtual sports, climb an indoor ropes challenge course, compete in a game of lazer tag and much more. It's fun for all ages! WonderWorks Panama City Beach is a four-story interactive attraction housed in an eye-catching upside down building cradled at the "PCB Pointe," where Middle Beach, Front Beach Roads and North Thomas Drive intersect – across from Ripley's Believe It or Not!® Museum.
Listing Management:
Update Business Details
MOST POPULAR
Articles
Videos
Directory
YELP Reviews Coming Soon!
Google Reviews Coming Soon!