The Bay Point Billfish Invitational Tournament is the premier fishing event on the Gulf Coast, and one of the best parties.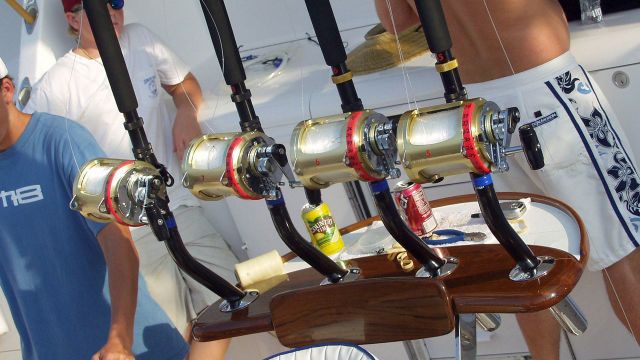 Panama City Beach, FL
IMPORTANT: THE BAY POINT INVITATIONAL BILLFISH TOURNAMENT HAS BEEN CANCELLED.
NEED TO KNOW:
What:
Bay Point Billfish Invitational Tournament
Where:
Bay Point Marina
3824 Hatteras Ln.
Panama City Beach, FL 32408
Tournament organizers recently announced the cancellation of the 2012 Bay Point Invitational Billfish Tournament, citing economic and logistical challenges.
"It was definitely a tough decision," said Steve Arndt, marina director at Bay Point Marina, "but ultimately the right one." He contends that it wasn't a single factor that led to the decision to cancel the 2012 tournament, but a combination of obstacles.
Arndt suggested that the economy was the main culprit, resulting in high fuel prices and a dwindling sponsor pool. "High fuel costs are especially tough on this tournament," said Arndt, "Many of our boats come from out of town, and when fuel gets expensive it definitely affects their attendance."
The proliferation of billfish tournaments along the Gulf Coast is also a factor. "There are almost a dozen big money tournaments along the Gulf Coast each year," said Arndt. "And in this tight economy anglers and sponsors can't afford to participate in every event."
Many tournament anglers feel that their best chance to land a money winning fish lies westward in the fertile fishing grounds near the Louisiana oil fields. In the past, many boats from Alabama, Louisiana and Mississippi participated, but fuel costs have been pushing that number lower each year as they choose to fish closer to home.
Other logistical factors influenced the decision to cancel the tournament, such as limited parking space. For years the tournament utilized a vacant lot just north of the marina as parking for spectators, participants and boat owners. That lot was recently renovated as a park, resulting in the loss of over 400 parking spaces. "Parking has always been a challenge, and when we lost the lot it was a severe blow. Without that extra space, there is no place for our boat owners and anglers to park."
"We have many other special events at the marina, such as the Bay Point Outdoor Expo and In-Water Boats Show in March, the Leukemia Cup Poker Run in May and several smaller events throughout the year," he said, "and we haven't given up on the Invitational. Hopefully this will just be a short break."
For more information, visit baypointbillfish.com.