New Year's Eve in Panama City Beach promises to be one of the most exciting ever!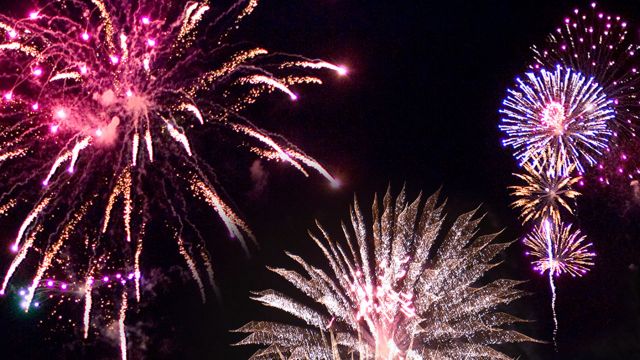 Panama City Beach, FL
New Year's Eve in Panama City Beach promises to be one of the most exciting ever! Live music, great food, big parties and beach balls are among some of this year's celebratory highlights.
NEED TO KNOW:
What:
New Years Eve in Panama City Beach!
Schooners: Schooners is hosting a huge party to ring in the new year. Rock in the New Year on the beach with live music from 7 Sharp 9! Fireworks show and champagne toast at midnight! Schooners will also be offering a four-course dinner party for $65 per person. For more details visit schooners.com.
VIDEO: Schooners New Year's Eve Celebration
Spinnaker Beach Club: Spinnaker will be hosting its New Year's Eve Party this New Year's Eve with live music. Live music with Big Richard, DJ Beachhouse, and DJ Link. Complementary champagne toast at midnight. For more information visit spinnakerbeachclub.com.
Pier Park: Celebrate the arrival of 2015 in true Panama City Beach style during Pier Park Beach Ball Drop 2014. Ring in the New Year with white sand beaches, family and friends and live entertainment. The New Year's Eve festivities will kick-off at 5:30 p.m. with a family celebration along the Boardwalk on Pier Park Drive. Families will enjoy interactive activities like face painting, costumed characters and exclusive giveaways, as well as live entertainment.
At 8 p.m., local dignitaries will release 10,000 inflated beach balls along Pier Park's beachfront boardwalk. This awe-inspiring activity, heralded as the nation's only family beach ball drop, will be followed by a dazzling fireworks display.
At 8:30 p.m., the official Countdown Celebration will begin with live musical performances throughout the evening. Just before midnight, attendees will countdown to 2015 as an 800 pound LED lighted beach ball descends nearly 100 feet. This symbolic occasion will be followed by a stunning, second fireworks display. For more information visit simon.com.
The Sandpiper Beacon: The Sandpiper Beacon is an incredible place to bring in the New Year with your family and friends. You can completely relax and have fun since you don't need to worry about driving after you've had a dink in the Tiki Bar - just walk to your room! Instead of fighting the crowds at the nearby Pier Park beach ball drop, relax and unwind in the Tiki Bar - AND enjoy a pristine view of the fireworks display shot off from the end of the Pier. What better way to see in the New Year than Toasting champagne overlooking the sparkling waters of the Gulf of Mexico? For more information visit sandpiperbeacon.com.
Club La Vela: Tuesday, December 31st, Club La Vela invites you to experience a new beginning at Club La Vela. Experience a night of celebration… of the past and future! Club La Vela presents a New Year's Eve Masquerade Party with DJ LC from Marquee Las Vegas. The first 1000 customers will receive complimentary masks at the door. There will be a $1000 balloon drop at midnight. DJ LC will be hosting the party and laying down the beats in the Thunderdome. DJ ScottEG in the Darkroom, Chad Defranco in the V-Ultralounge, and DJ Will & Nyu will be opening and closing the night in the mainroom, and DJ Frazzle will be in the Two Buck Saloon. Theres also live rock with Crashing Broadway in the Rock Arena. For more information visit clublavela.com.
No matter where you spend your New Years Eve in Panama City Beach you're sure to have a great time on the World's Most Beautiful Beaches!