Mardi Gras in Panama City Beach? You bet! PCB may not be New Orleans, but we still know how to have a good time.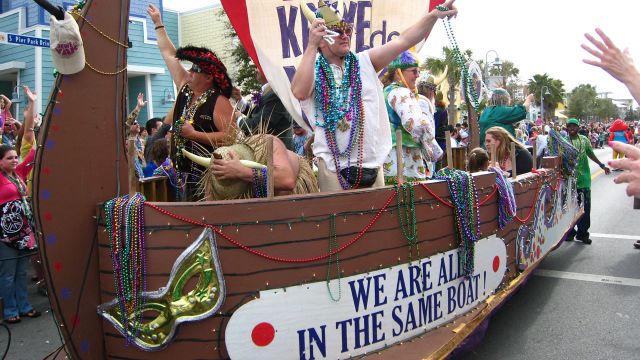 Panama City Beach, FL
Mardi Gras in Panama City Beach? You bet! PCB may not be New Orleans, but we still know how to have a good time. In fact, the people of the Panama City area love Mardi Gras so much that there are actually two celebrations.
NEED TO KNOW:
What:
Panama City Beach Mardi Gras
When:
February 3 - 18, 2012
Mardi Gras at Pier Park
Mardi Gras on Panama City Beach is held at Pier Park by the Krewe of Dominique Youx. On Friday, February 17, the festivities start at 4PM and continue until Midnight. There will be a street party, classic cars on display, the chance to meet and mingle with prior Mardi Gras Kings and Queens, fireworks at 9PM and of course lots of tasty Cajun food!
Then on Saturday, February 18, the fun will start with a kid's parade at 10AM followed by the Mardi Gras parade at 2:30PM featuring lots of unique floats, bands and Krewes in costume traveling down the boardwalk of Pier Park with tons of beads and treats to throw out to the crowd. Fireworks are scheduled for 9PM and the party continues through Midnight.
Website & full schedule: mardigrasatthebeach.com
St. Andrew's Mardi Gras
Also, on February 10th-11th Mardi Gras in St. Andrews will be hosted by the Krewe of St. Andrews. This is where Panama City started celebrating Mardi Gras, in 1997. From modest beginnings, the St. Andrews celebration has turned into one of the years can't miss events.
Then on Saturday the 11th beginning at 1PM the Main Parade will start at Oakland Terrace Park, down 11th St. to Beck Ave. There will be beads, doubloons and other unique treasures thrown to the crowd from more than 20 brightly colored floats!
Website: saintandrewsmardigras.com
Panama City Mardi Gras
As Mardi Gras approaches, the phrase on everyone's lips is: let the good times roll! Well, in the heart of historic Downtown Panama City, festivities are warming up.
On February 3rd and 4th, Krewe of Massalina mardi gras parade and festival will kick off. On its opening day, events will be held from 3 to 10 pm.
The following day, the festival kicks off at 11 am with the main parade being held at 3 pm. Followed up by the festival till 11:30
More than fifty vendors will be set up. And if you're looking for great N'Orleans style rhythms, 2 stages with local and out of state musicians will be filling the air with music.
The Krewe of Massalina Mardi Gras parade and festival will be free of charge. For more information visit kreweofmassalina.com.
The Krewes that sponsor these Mardi gras celebrations have grabbed a bit of something from other Carnival-type events. There are amusement rides, food & beverage vendors, special performances, a Kid's Parades, a Pet Parades, and even a Gasparilla-style Pirate Invasion!
All three Mardi Gras celebrations are more family-centered than the raucous street party in New Orleans!
Can't make New Orleans for Mardi Gras? Then give Panama City Beach a try!