Video Player
NOTE:
Works on most websites and blogs. Does NOT work with most social networks - use
Video Link
instead. Not compatible with video upload sites (YouTube, Vimeo, etc).
Published by:
TripSmarter.Com
Published date:
July 28, 2016
Total views:
86 total views
Monthly average:
9 views / month
Daily average:
0 views / day
Hannah Walsingham from WonderWorks - New Faces, New Places
Hannah Walsingham from WonderWorks talks a little bit about Space Fury in this New Faces, New Places segment.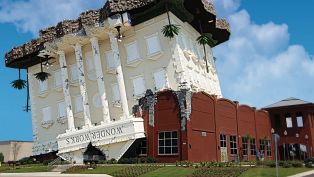 WonderWorks is an amusement park for the mind with over 100 hands-on exhibits to spark the imagination and challenge the mind. Experience hurricane-force winds, land the space shuttle, pedal the Xtreme 360 bikes, become a human lightning rod by touching 100,000 volts of electricity, lie on bed of 3,500 nails, design and ride a virtual roller coaster, play virtual sports, climb an indoor ropes challenge course, compete in a game of lazer tag and much more. It's fun for all ages! WonderWorks Panama City Beach is a four-story interactive attraction housed in an eye-catching upside down building cradled at the "PCB Pointe," where Middle Beach, Front Beach Roads and North Thomas Drive intersect – across from Ripley's Believe It or Not!® Museum.
Listing Management:
Update Listing