The Atalaya Arts and Crafts Festival takes place every year at Atalaya castle, the Moorish fancy built by Archer and Anna Huntington in 1930.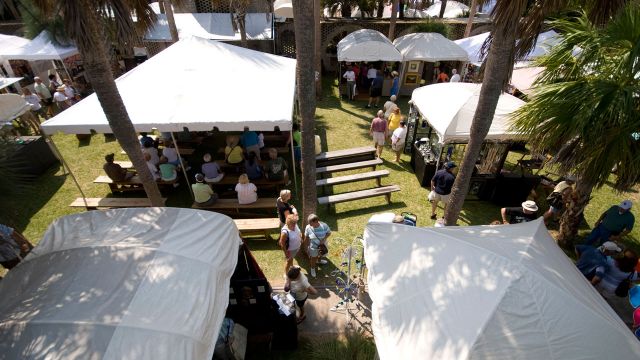 Murrells Inlet, SC
A castle on a beach and a collection of some of the most unique arts and crafts to be found today - you must be going to the Atalaya Arts and Crafts Festival. The castle, located in Huntington Beach State Park is the former home of the world famous sculptor Anna Hyatt Huntington.
NEED TO KNOW:
What:
Atalaya Arts and Crafts Festival
When:
September 26 - 28, 2014
Where:
Atalaya Castle - Huntington State Park
16148 Ocean Hwy
Murrells Inlet, SC 29576
In honor of her contributions to the art world, this festival welcomes in over one hundred local and national artisans to show their wares. Over 10,000 people will be browsing the eclectic display of hand blown glass, baskets, and other artifacts. In addition, no walk through a castle would be complete without live entertainment around every corner, and some great food to enjoy.
Atalaya (a Spanish word for "watchtower" and pronounced at-a-LIE-ya) is a low-slung Moorish-style coastal fortress, conjuring images of El Cid and the Reconquista.
Build by Archer Huntington, the son of a shipping and railroad magnate, in 1930 while he and his wife Anna were busy with nearby Brookgreen Gardens, their pet project.
Disdaining the use of either architect or plans, Huntington and local contractor William Thomson built Atalaya from conversations and gestures. This impromtu and certainly ideosyncratic methodology resulted in what is, by any standard, an usual and distinctive residence.
The Festival held every year opens the grounds to many who would otherwise never know of the enchanted and slightly disturbing castle on the beach.. and, possibly, opens their eyes to much else as well.