Thousands of lights sparkle from Live Oak trees and illuminate garden paths as musicians perform, carolers sing and visitors experience the enchantment that only Nights of a Thousand Candles can bring.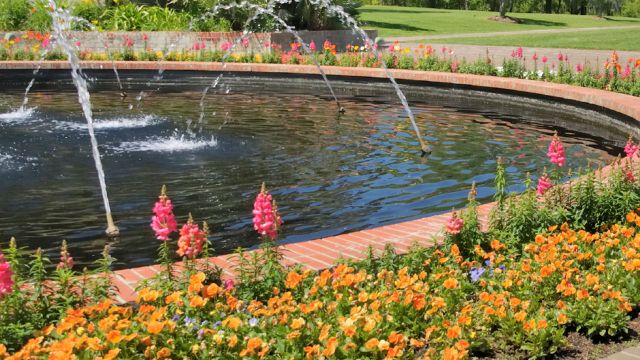 Myrtle Beach, SC
Brookgreen Gardens is the largest sculpture garden in the country... with some 900 sculptures framed by 250-year old live oaks. The extraordinary blend of art and nature is widely recognized as the finest outdoor presentation of American figurative sculpture in the world.
NEED TO KNOW:
What:
Nights of a Thousand Candles
When:
November 25, 2016 - December 1, 2017
Where:
Brookgreen Gardens
1931 Brookgreen Garden Dr
Myrtle Beach, SC 29585
This National Historic Landmark boasts more than 300 artists, including the garden's creator, Anna Hyatt Huntington. Thanks to her vision, Brookgreen Gardens has flourished since 1931, but little could she imagine the enchantment of Brookgreen Gardens during one of its most popular events, "Nights of a Thousand Candles!"
Though the massive oaks of Brookgreen Gardens have seen many a Christmas, nothing compares to Nights of a Thousand Candles with thousands of tiny lights twinkling from underneath the moss-draped branches and in the shadows of the giant oaks. Thousands of luminaria light every garden path and the air fills with music as carolers sing! For six nights only, visitors enjoy the magic of an enchanted garden as they savor a glass of wine or hot cider, and pause for live musical performances. Guests dine on low-country seafood, complete their holiday shopping in the Keepsakes gift shop and snack on baked "goodies" from the plantation kitchen. Brookgreen Gardens was once a plantation belonging to Aaron Burr's ill-fated daughter, Theodosia and her husband Joseph Alston. She boarded a ship in nearby Georgetown in 1812 and was never seen again.
Now the garden is filled with beauty and holds holiday cheer for young and old alike who share the magic of Nights of a Thousand Candles. Come early and stay late to see the magic of the garden by candlelight and see why this is Brookgreen Gardens' most glowing event.