Big Lagoon State Park offers a colorful range of natural landscapes.
By | March 26, 2013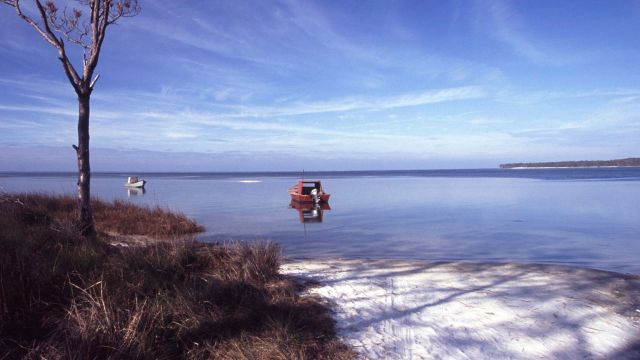 Pensacola, FL
Florida has something like 150 state parks, but few compare to the scenic beauty of Big Lagoon State Park in Escambia County, the westernmost county in the state of Florida and home to world-famous Pensacola Beach, Perdido Bay and the eerie ghost town of Muscogee. With nearly 700 sweeping acres, this incredible park sits on the northern shoreline of its namesake, Big Lagoon, and offers a colorful range of natural landscapes that attract a wide variety of birds and beach lovers from all over the world. Camping enthusiasts also come to Big Lagoon State Park to swim, boat and canoe or hike along one of the many nature trails and its open woodlands. Crabbing in the shallows is another popular activity and the park's giant oak trees and tall stately pines provide plenty of shade for an afternoon picnic or a relaxing nap.

Of course you'll discover plenty of white sandy beaches, too and tidal pools-rich with sea-life. Low tide can provide hours of amusement, and sometimes "dinner" for young and old alike. The park is also home to slightly larger animals such as the grey fox, raccoon and possum that hide inside seemingly impenetrable thickets of plants, scrub and flowering vines of every description. So much natural beauty makes Big Lagoon an ideal choice for weddings both large and small, with the sparkling lagoon as an eye-catching backdrop. In addition, the park's open-air amphitheater has witnessed many celebrated parties and events, including a multitude of heartfelt "I Do's" from couples in love!

But its' the 5-star Campground that provides the biggest draw with an astounding number of idyllic campsites that dot a secluded, sand pine ridge. A nearby boardwalk transports visitors over the salt marsh and to a 40 foot observation tower with panoramic views of the park and barrier island. Park rangers offer educational programs and slide presentations on everything from sea turtles and their nests, to the migration habits of the Monarch butterfly and the benefits of controlled burning. Big Lagoon State Park is as spacious as it is scenic, but it is one of Florida's most underutilized state parks, in spite of the many special events and festivals held throughout the year. So next time you're in or near Pensacola, why not pack a picnic and spend a day or two exploring the wilds of one of Florida's best kept secrets? By all means visit Fort Pickens, too…explore the Blackwater River and visit the amazing Gulfarium; but whatever you do, don't miss out on all the fun and diversity of Florida's number ONE park…Big Lagoon State Park, located at the intersection of Old Gulf Beach Highway and Bauer Road...and have yourself a BIG time at BIG Lagoon!