Pensacola is one of the best places on the Emerald Coast to get close to nature.
By | March 26, 2013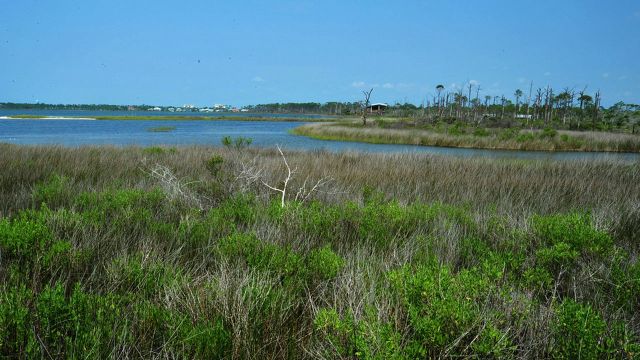 Pensacola, FL
There's no better place to ditch your car and "go green" than the Pensacola Bay Area. It's one of the best places on the Emerald Coast to get close to nature and learn about the unique ecosystems found in this one-time capital of Florida. It was here that Governor Andrew Jackson changed flags with Spanish Governor Jose Callava, bringing West Florida under the control of the United States after having been ruled by Spain, France, Britain and the Confederacy. Now duly nicknamed, City of Five Flags, Pensacola is not only a place of history, but a place of bewildering nature... rare and endangered species! By going green, we protect all that is dear to this seaside city and its many unusual state parks, there for all of us to enjoy... at least for the time being!

Before we go green in downtown Pensacola, spend a few nights under the stars at Big Lagoon State Park. Reservations are taken up to eleven months in advance and there is limited walk-up camping available on a first come first serve basis. Camping in Big Lagoon is a great way to enjoy leisure activities like swimming, hiking, and canoeing just to name a few! Nature study is at its best however at Tarklin Bayou Preserve State Park, home to four species of the incredibly odd and endangered pitcher plants, as well as other rare and endangered plant species. Free educational tours are offered at Gulf Islands National Seashore, located in both Mississippi and Florida. You can even "go green on the green" at Lost Key Golf Club, an Audubon International Silver Sanctuary.

Habitat restoration projects along Pensacola Bay and downtown Pensacola's waterfront have attracted a large number of waterbirds, gulls, terns and cormorants for avid bird watchers. Sometimes more than 300 birds can be seen at one time. If you mix a little bird watching with your round of golf at Lost Key Golf Club in Perdido Key Beach, you're sure to please most everyone in the family... well, almost.

So, ditch your car and do downtown Pensacola on foot, a decidedly more eco-friendly mode of transportation. The Pensacola Fishing Pier offers another birding "hot spot" for gannets, loons and migrating ducks, and if you walk through Avian Alley at The Zoo, kids and adults alike are bound to enjoy the interactive experience with all kinds of birds, including ibis, spoonbills, hammerkops and curasows. Or why not enjoy Pensacola's many museums, historic sites and waterfront parks before renting a bike on Pensacola Beach. The boardwalk and National Seashore are ideal for a day or two of biking... then grab a kayak and spend your day paddling in Pensacola Bay or Blackwater River.

When booking your stay, don't forget to book a "green hotel," designated by the Florida Green Lodging Program. The green designation indicates the hotels follow strict environmental guidelines to conserve natural resources and prevent pollution. More than ever, the Florida Panhandle has become a national hot spot for biodiversity in plant an animal life... and it is our job as a visitor to make sure the footprint we leave is a green one. Go green wherever you go and make sure the many wonders of our world will live on for generations to come!