There's something wonderful about Pensacola in the winter months... try it and see!
By TripSmarter.Com | December 15, 2014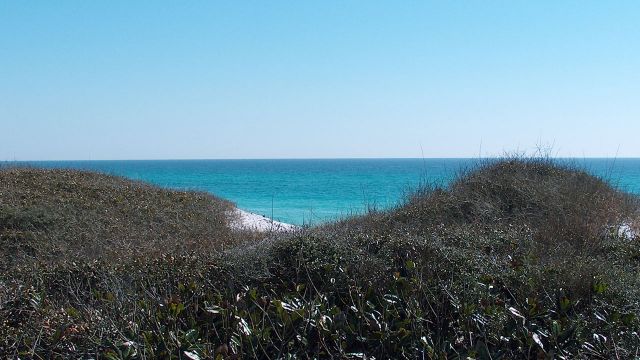 Pensacola, FL
Although the calendar says summer is over, warm weather still lingers into fall and winter in Pensacola. This historic city, comfortably nestled in the westernmost corner of Florida's Panhandle, is well worth a visit... or two - especially in the winter months! The good news for visitors is that higher summer prices left with the summer crowds. In many ways, it's the best time of the year to visit... the crowds are gone, lodging prices are low, festivals occur almost every weekend and the world class, white-sand beaches are wide open... all yours for the taking!

Pensacola offers the best of all worlds to visitors. From history and shopping to sports, nature and attractions, there's something for everyone. The Seville Historic District is one of the oldest and most intact in all of Florida, its architecture reflecting modest structures perfectly suited to the climate. Within this small neighborhood is Old Christ Church, Florida's oldest church (1832), and St. Michael's Cemetery, deeded to Pensacola by the King of Spain in 1822.

You won't want to miss the Pensacola Historical Museum with its overviews of the nations whose flags flew over Pensacola, and the Civil War Soldiers Museum, which focuses on life in Pensacola during those years. Popular with military reunions, however, is the Wall South at Veterans Memorial Park on Bayfront Parkway. It's a one-half scale exact replica of the design in Washington, D.C. The world-class National Museum of Naval Aviation showcases the history of aviation through indoor and outdoor exhibits and the museum admission is free. There's racing excitement at Pensacola Greyhound Track and Five Flags Speedway. Still looking for something to do?

Pensacola also boasts many beautiful parks with fountains, play areas and often water access. You can feed the ducks at Bayview Park or watch an osprey return to its nest with a freshly caught fish at Big Lagoon State Park. Public boat ramps allow for fun on the water...just pick up a copy of the Florida Boater's Guide from the Marine Patrol across from the Visitors Information Center at the foot of the Bay Bridge. And speaking of the bridge, the old Pensacola Bay Bridge is one of the longest fishing piers in the US - for small change, you can fish right in the middle of the bay!

Shopping is terrific, too! Downtown Pensacola is filled with specialty shops, wonderful coffee shops, cafes or eateries for lunch, or just an afternoon latte. The downtown area showcases wonderful art galleries featuring both local and regional art, as well as traveling exhibits in the Pensacola Musuem of Art. If antique shopping entices you, antique stores and flea markets pepper the area from the elegant to the eclectic. Why not spend some time in Pensacola - you'll see why they say it's where thousands live the way millions wish they could!

Explorers first put the Pensacola area on the map 440 years ago, starting a long, rich, diverse heritage. Today, you can enjoy that multicultural legacy at many historical attractions.Pensacola got its name from the Panzacola Indians who greeted the first Spanish explorers in 1559, when Don Tristan de Luna led 1,400 colonists to what is now Pensacola Beach. Then, a major hurricane came along and sank ships, drowned livestock, and prompted them to flee. Although the Panzacola Indians are now extinct, Creek Indians still live in the area and celebrate their traditions. More conquistadores arrived in 1698. Spanish soldiers, aided by slaves, built a fort at what is now the Naval Air Station on Pensacola Bay. That settlement was unearthed in 1998 and opened to the public...there, one can imagine what life was like over 300 years ago.

Over the years Pensacola changed hands often - among Spain, France, England, the United States and the Confederacy. During the Civil War, Rebels held Fort McRee and Union troops held Fort Pickens.

Fort Pickens... All those bricks! More than 21 million. Most of them were made right across the bay in Pensacola and barged to the site where the Fort stands today.The Fort was completed in 1834 and used until WWII, when modern weapons made traditional coastal defense obsolete. Fort Pickens has changed over the years, so take the self-guided tour and peel back the layers of history. It will lead you to cannon emplacements, powder magazines, and show you where "Bastion D" ISN'T... that corner of the fort was destroyed when a warehouse fire reached a magazine holding four tons of black powder. The 1899 explosion showered debris over 11/2 miles, reaching Fort Barrancas at the naval air station on the mainland!

The Navy shipyard, established in 1825, evolved into an air station, propelling Pensacola into the forefront of naval aviation. This affiliation produced many distinguished military soldiers, sailors and aviators, including the first African-American to become a four-star general in the Air Force, Chappie James of Pensacola, who flew 100 combat missions in Korea and Vietnam. Another glimpse of the past is offered at St. Michael's Cemetery, where slaves and nobility alike are buried.

Pensacola's past also comes alive in the Historic Pensacola Village, the Pensacola Historical Museum, the Pensacola Historic District, and The Civil War Soldiers Museum, all located in the downtown historic district. But wait...there's more! Forts at Santa Rosa Island and the Naval Air Station also have displays, as does the National Museum of Naval Aviation. .

Plus, there's Fast Eddie's Fun Center...young or old, short or tall, Fast Eddie's has it all! Varied sizes of go-carts with four tracks that meet all age and driving skills for this Superkart Speedway with computerized scoreboard! There's also an air conditioned state of the art Game Room should the Florida sun get too hot? Cycling, in-line skating and jogging are all popular on the beaches and equipment rentals are easily available. Simply put...there's a lot of wholesome entertainment for the whole family including miniature golf, bowling, batting cages and more than two dozen movie theaters.

If you're looking for the "wide open spaces," enjoy a ride along the aptly named Scenic Highway, an 11 mile stretch offering eye-catching views of Escambia Bay and colorful bluffs. To the west, you can swim, hike or picnic at Big Lagoon State Recreation Area and the Perdido Key State Recreation Area. There's something for everyone in the family: birding, boating, concerts, and night-time beach tours.

To the northeast you will find "The Canoe Capital of Florida." Shallow, spring-fed creeks flow through woodlands at a tranquil, relaxing pace. The pristine streams are popular with groups, families and individuals.

Canoe, kayak, paddleboat or inner tube along the Perdido River or through Blackwater River State Recreation Area, which covers 200,000 acres teeming with wildlife. Cabins, campsites, nature trails and picnic areas abound - especially at Blackwater Canoe Rental and Sales and Adventures Unlimited.

No doubt about it, there's plenty of culture here as well... art to open your eyes, dance to keep you on your toes, and history to entertain and educate you. You can hear all sorts of sounds - jazz, country, big band as well as opera from The Pensacola Opera and symphony from The Pensacola Symphony. Theatrical and dance companies perform throughout the year and professional touring companies make their home in the lovingly restored Saenger Theater. Nearby, the Pensacola Little Theatre holds forth in a stylish 474-seat theater in the Pensacola Cultural Center, home to numerous arts groups. Dance, choral and symphony groups use both theaters for a variety of cultural and artistic shows.

Of course, Pensacola Beach is the hub of Santa Rosa Island... it was first discovered centuries ago by Spanish conquistadores. Santa Rosa Island offers miles of unspoiled white sand, blue-green water, numerous restaurants, and a taste of history. Much of this barrier island is protected from development. The Gulf Islands National Seashore keeps beaches accessible to the public and preserves the area's environment and history. Sun-seekers can mix and mingle at popular beaches or, if they prefer, they can claim isolated stretches of sand for themselves.

Motorboats, sailboats, surfers and windsurfers coexist easily in the Gulf and bays while parasailers float overhead and fishermen try their luck from sea and shore. The calendar may say "winter," but in Pensacola there's always plenty to do...it's fabulous!

pensacola, area, fort, museum, history, air, state, art, naval, bay, golf, air station, naval air station, civil war, state recreation, pensacola area