Watch as mystical creations arise out of the quartz-white sands of Pensacola Beach.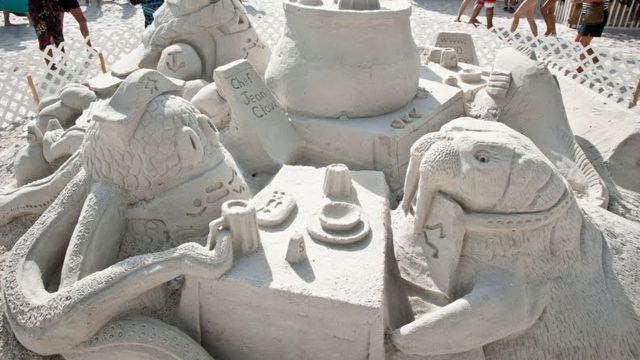 Pensacola, FL
The Fiesta of Five Flags is an annual celebration of the founding of Pensacola, the first European settlement in the United States, in 1559 by Spanish Conquistador, Don Tristan de Luna.
NEED TO KNOW:
What:
Fiesta Sand Sculpture Contest
Since that time, five different flags have flown over the City; the Spanish, French, British, Confederate and American. This Top 20 celebration is one of the oldest and largest festivals in Florida.
With events designed to appeal to all ages and interests, Fiesta has always been a significant celebration for the Pensacola community.
Watch as fantastic creations arise from the quartz white sands of Pensacola Beach as contestants compete for cash prizes at the Fiesta Sand Sculpture Contest. Participants and spectators alike enjoy the opportunity to see the sensational sand sculptures which will be built at the Pensacola Beach Pavilion near the Pensacola Beach Fishing Pier at this annual event. Bring your family and make a day of it at our beautiful beach.