Over 150,000 people stream into the Downtown Historic District's Seville Square for the annual Great Gulf Coast Arts Festival every November.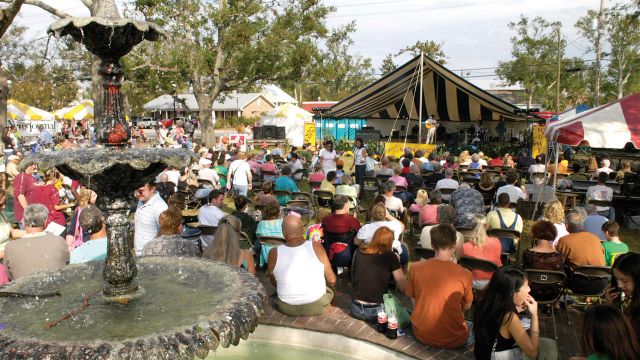 Pensacola, FL
The Great Gulfcoast Arts Festival is one of the most highly regarded and popular arts festivals in America. The Great Gulfcoast Arts Festival is a three-day, juried art show in Pensacola's historic Seville Square. Each year, it draws more than 200 of the nation's best painters, potters, sculptors, jewelers, graphic artists, craftsmen, mixed-media artists and others who have been gifted with the ability to turn inspiration into art. They compete for your attention and $25,000 in cash awards.
NEED TO KNOW:
What:
Great Gulf Coast Arts Festival
When:
November 3 - 5, 2017
Where:
Downtown Historic District's Seville Square
The Festival features an authentic Heritage Arts area, where skilled craftspeople from around the country provide demonstrations of crafts from the past, including blacksmithing, engraving, spinning, weaving and other time-honored traditions.
The Children's Arts Festival takes place at Bartram Park, featuring numerous hands-on artistic opportunities to indulge kids' inner artists at no cost to parents. Projects include face painting, clay play, a flower shop, button creations, sand art, sidewalk art, and a magical balloon show. There is glitter, glue, sequins and more for children to create their own mini-masterpieces such as masks, crowns, magic wands, and jewelry. The Children's Festival is open for all children, including those with special needs from selected schools.
Bartram Park is also home to the annual Student Art Show, which showcases the talents of private and public school students in Escambia and Santa Rosa Counties. Over 2,000 pieces of art from elementary, middle and high school students are displayed.
Food and beverages are available from a variety of vendors, including some of Pensacola's best-known restaurants and chefs.
Admission to the festival is free.