The Pensacola Interstate Fair draws visitors from all over the Gulf Coast of Florida, Alabama and Mississippi.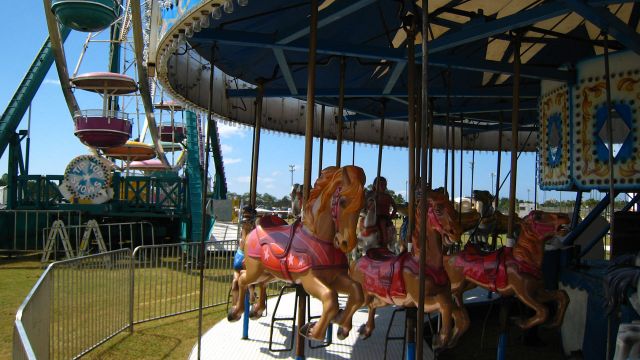 Pensacola, FL
Remember the state fair? Cotton candy, a few old rides, and a circus act or two? Now picture it all on steroids and you've got the Pensacola Interstate Fair!
NEED TO KNOW:
What:
Pensacola Interstate Fair
When:
October 19 - 29, 2017
Ten days of top-notch musical entertainment, exhibits, wild animals, over 60 thrilling rides and great festival foods comes to Pensacola every year in October.
For many fair-goers the concerts and special shows are a large part of the draw. All the shows are included in the admission price, and the Open Air Stage holds 5,000 people.
What kind of shows does the Fair have? Adriatic White Tigers, sea lions, live shark encounters, and of course, the music!
PIF invites participants from all over - hence the interstate fair - and boy, do they show up. Exhibitors come from all over the country, in several different categories... photographic arts, custom cars, agricultural arts, industry and more.
With 150,000 square feet of indoor facilities in 7 buildings, all air conditioned and heated, you can stroll through the exhibits in perfect comfort - while munching on cotton candy if you want!
In all the Fair covers 147 acres, and even has over 40 acres of lighted, paved parking. And it's easy to get to... at 6655 Mobile Highway, just off Highway 90 and Pine Forest Road.
So bring the kids, the grandparents, heck even your in-laws. There's truly something for everyone at the Fair!