St. Patrick's Day 5K Run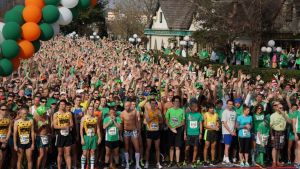 Pensacola, FL
McGuire's Irish Pub will host the Annual Mcguire's St. Patrick's Day Run. The event begins at 9am, and will start and finish at McGuire's Irish Pub, Downtown Pensacola.
When:
March 10, 2012
Where:
McGuire's Irish Pub
3.1 miles - starts and finshes at McGuire's Irish Pub. You must be able to run or walk 3.1 miles in under one hour. The course will open to traffic at 9am.
Rules for a Prediction Run
Each runner or walker will predict how long it will take them to complete the 3.1 mile course. The finishers who come closest to the time predicted on their registration form wins.
The use of watches or other timing devices will be considered an unfair advantage
and the participant will be disqualified!
Post Race Party
Post race party features Rich McDuff's Irish sing along, Irish coffee, Irish Fare, Irish wakes, Bud Light, Michelob Ultra & soft drinks, beginning at 9:30am - refreshments are for registered runners only - you must display your bib number to be served!