Destin is full of great restaurants with waterfront locations... check out my list of some of the best places to eat on the water!
By | September 9, 2013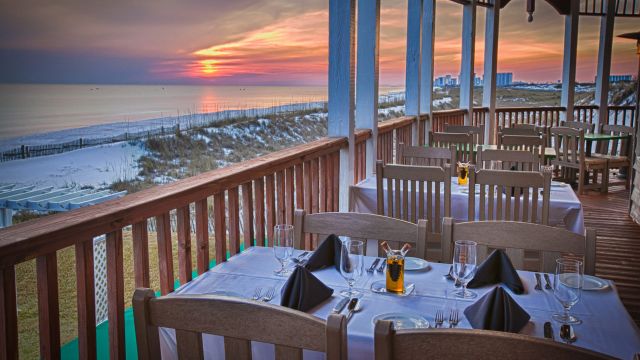 Destin, FL
Beach Walk Café at Henderson Park Inn
Beach Walk Café is the most awarded and only "fine" dining restaurant located directly on the emerald waters of the Gulf in Destin. They offer dining opportunities such as Toes in the Sand, outdoor seating on the Sky View Deck or seating indoors with a beautiful view of the Gulf. The Henderson Park Inn has been voted the most romantic place to stay along the NW Florida coast, so it goes without saying the same holds true for dining. Even though you may pay a little more, it's well worth it... the food, wine list, service and view are amazing! And... oh, the sunsets! Reservations are always recommended.

LaFamiglia Restorante Italiano & Pizza
Whether you'd like to share a bottle of wine with a friend, wine by the glass or eat some of the best, most authentic Italian food in Destin, LaFamiglia is the place to go. Its newest location is probably one of Destin's best kept secrets. Park at the Emerald Grande and walk all the way west toward the bridge. LaFamiglia is located just above the Crab Island Cantina in HarborWalk Village and probably has the best view of the Destin Pass. Take a friend and try their anti-pasta, split an order of spaghetti with meatballs, have a glass of wine and you will be amazed at the value. Or go online and check out their other daily specials. Their original location is nearby on Highway 98.

Crab Island Cantina
Located just below LaFamiglia on the west end of HarborWalk Village, Crab Island Cantina provides a beautiful view of the Destin Pass, Crab Island and the boats as they pass by and enter into the Destin Harbor. There is not a bad seat in the house. The owners of this restaurant own multiple other Mexican restaurants in the area... all of which provide authentic Mexican cuisine and a variety of tasty Margaritas.

Harry T's (a local favorite)
All year round there is hustle and bustle at Harry T's which is located at the mouth of the Destin Harbor in HarborWalk Village. They are a very well established restaurant in Destin, the host of many events and are open for lunch, dinner and have a late night crowd too. They also serve brunch on Saturdays and Sundays. The menu is extensive (specializing in seafood), the food is great plus they have two bars to serve you. With two levels to choose from, the outdoor deck has a waterside view from nearly every table... and the sunsets from this location are amazing!

The Crazy Lobster
Located at the mouth of the Destin Harbor in HarborWalk Village, the Crazy Lobster specializes in what else?... lobsters and steamed buckets! There is covered outdoor seating as well as indoor seating available and a large circular bar indoors with a view from nearly every table. Stop by in the evening and sip on one of their signature cocktails while listening to live music which is featured seven nights a week.

The Boathouse Oyster Bar (a local favorite)
Recently voted the best place to have a beer, a bowl of gumbo and raw and baked oysters, the Boathouse extends over the water on the Destin Harbor. It's truly the next best thing to being aboard a boat! Plus, the prices are right and there's live music beginning at 4pm nearly every day. Renovations completed this year include a permanent awning over the outdoor seating to help keep the sun off.

Dewey Destin on the Bay (a local favorite)
Located just off Calhoun (in Destin), keep an eye open or you'll miss the sign for Dewey Destins. Turn right and go as far as you can until you come to this one-of-a-kind restaurant extending onto a pier overlooking the Choctawhatchee Bay (and Crab Island). Owned by the family of one of Destin's founding fathers, this is where you go to step back in time. Hang out, relax and enjoy the food, drink and view. Specializing in seafood, you'll find something on the menu you are sure to love.

Boshamps
The party starts here. This brand new, tiered, restaurant provides many options for your enjoyment. The menu offers a huge variety of oyster dishes as well as other local favorites to choose from. There are as many bars as there are dining options both indoors and out. Great food, beautiful white lights, live music and its very own beach will complete your visit. Plus, this is one of a few restaurants in the Destin area where you can approach by boat and that alone is a sight to behold.

Harbor Docks (a local favorite)
Not many places located on the Destin Harbor serve breakfast, lunch and dinner, but Harbor Docks does. Plus, they have taken a step forward in the local fishing industry announcing they serve the freshest seafood available. If your taste buds are set for sushi, this is the place to go. They are truly pros when it comes to freshness and preparation. Open air, covered and indoor dining are available and there is a view from nearly every table. Stop by and soak up some local color.

790 on the Gulf (a local favorite)
Located in the Inn at Crystal Beach, you will find casual elegance in a less than crowded environment. Many tourists come here during the summer months but the local Destin people flock here the rest of the year. They have a wonderful happy hour, reasonably priced lunch and dinner menu, small bar area and maybe the best overall outdoor seating of any restaurant in Destin. The outdoor deck has a fully unobstructed view of the Gulf, is located directly on the beach and is perfect for lunch, cocktails, dinner or evening drinks.

Margaritaville (the old Lucky Snapper location in HarborWalk Village)
Many of you have been waiting to see which restaurant would take over this beautiful location along the Destin Harbor. For those of you who have not heard the news, construction for a new Margaritaville is under way. So, if you have plans to be in Destin in 2014, the Margaritaville located on HarborWalk should be completed. The upstairs view from this restaurant is incredible!