HarborWalk Village in Destin has managed to combine the very best of the past with all the creature comforts of today.
By | March 21, 2013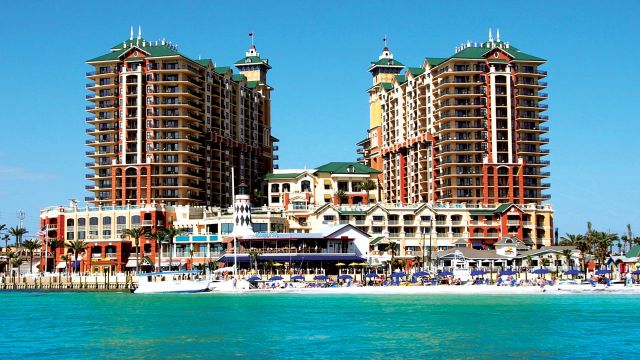 Destin, FL
The word, village, just feels like something from a time gone by... a world of cobblestone streets and shopkeepers who specialize in all things unique and homegrown-things you can't find anywhere else. Certainly there are no department stores in a village, just the old-time atmosphere that we all seem to crave in this 21st Century world of ours. HarborWalk Village in Destin has managed to combine the very best of the past with all the creature comforts of today, and though it's well hidden behind the confines of Destin Harbor and the Emerald Grande itself, this is one village where time slows and shopping, eating or simply "carousing" are as much fun as any day on the beach! But if the beach beckons, Noriega Point is only a short... very short, boat ride away and chances are you won't want to leave this European-like village... or Noriega Point any time soon, surrounded as it is by the never ending action on Choctawhatchee Bay and the Gulf of Mexico, not to mention the amazing sights and sounds of Destin Harbor.

Tucked away and practically hidden below the imposing edifice of the one and only Emerald Grande, HarborWalk Village has something for everyone... locals and tourists alike... and all you have to do is show up and join the merriment. By all accounts, it's a centuries-old way of life but this village has all the perks of any good-time vacation destination and there's always something going on. People watching here is more like "boat watching," as every day is highlighted by the quiet procession of Destin's fleet of fishing boats leaving the harbor in pursuit of the day's catch. It's best to get there early if you don't want to miss the impressive sight, but regardless of the time of day, you can always count on plenty of fresh seafood in the village whenever hunger strikes!

If you'd like to work up an appetite first, you'll find plenty of FUN things to do in the village, though just walking around seems to be a favorite pastime... but if adventure's on your mind, there's world-class fishing here or swimming with the dolphins... and there's nothing more romantic than a sunset sail. Snorkeling and parasailing are also "big thrills" for village activities and who wouldn't like to spend the day speeding across the water on a jet-ski? But if you'd rather take things a little slower, pontoon boats are perfect for the whole family... and then some! If you're a landlubber, village shopping is just the thing and there are countless shops and boutiques that specialize in all those things that seem to be calling your name. Or... you can literally go fly a kite! Well, you'll have to buy it first, but Noriega Point has just the right amount of wind for lofting kites of every color, size and description.

It's hard not to notice the free ferry that moves passengers to the Point and back to the village whenever you want. Spend as long as you like flying your kite or sunbathing on the sandy beach... and if you'd like to "live it up," it's easy to arrange a hand-delivered lunch from one of the village restaurants. Whether you spend the day on Noriega Point or in the village, all the restaurants are easy to find assembled as they are on one village block! HarborWalk Village means you won't have to spend your day traipsing all over Destin to find whatever suits your fancy... and it all comes with a postcard view of the harbor and the Gulf of Mexico!

Since there's no need to drive, why not have a frozen fruit daiquiri or two... or shop 'til you drop at all the village shops and boutiques. You'll find everything from souvenirs, clothing and hats to Christmas ornaments, sunglasses and stuffed animals, too! And like any good village, you'll even find fresh flowers for sale, as well as a real cappuccino or fresh fruit smoothie when you need a little boost. Later on, the harbor scene heats up at the village nightclub, so there's no good reason to leave, especially if you're staying at the Emerald Grande... but one thing's for sure-village life has never been easier or more FUN and it's all done with consummate style. Now, it may be a little hard to find, but HarborWalk Village sure is a fine way to spend the entire day and nighttime, too!