Interesting Facts About Destin and Its History
Destin was settled in 1845 by Captain Leonard Destin who was a fisherman from New London, Connecticut.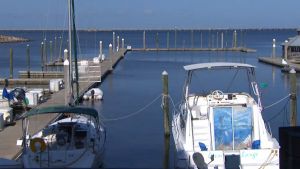 Destin
1. Destin is known to have some of the softest, whitest beaches in the world. The reason is the sand particles come from quartz found in the Appalachian Mountains and travel to the Gulf of Mexico by way of the Apalachicola River. Of course, this process began some 20,000 years ago, but it continues today. These perfectly oval grains of sand squeak under your feet when you walk on it.

2. Native Americans began living in the area around the seventh century. They settled in the area because of the area's natural resources that included an abundance of seafood. It wasn't until 1693 that Europeans learned of Destin when Spanish explorer Don Francisco Tapia was in search of fresh water.

3. Destin was settled in 1845 by Captain Leonard Destin who was a fisherman from New London, Connecticut. His descendants still live and actively fish in the Destin area.

4. Destin's East Pass was formed in 1926 after several local families decided to release hurricane flood waters from the bay. They began digging a man-made trench from Choctawhatchee Bay to the Gulf of Mexico. On that same day the flood waters rushed through and created Destin's East Pass.

5. Destin is known as the "The Luckiest Fishing Village" because the Destin pass allows the quickest access to deep water and deep sea fishing in the entire Gulf.

6. Destin has long claimed to have the largest fleet of recreational fishing vessels in Florida.

7. Destin is located on a peninsula between the Gulf of Mexico and Choctawhatchee Bay.

8. Destin's first condos were built in the 1970's and Destin was incorporated in 1986.

9. Florida's Department of Environmental Protection estimates that more than 80 percent of the Emerald Coast's 4.5 million yearly visitors travel to the region to visit Destin. The full time resident population consists of only 12,300 people.

10. One of the newest enhancements to Destin is the Destin Harbor Boardwalk project which was completed in 2012 and spans nearly a mile. This walkway allows Destin visitors the opportunity to check out restaurants, water activities, go fishing or check out the local daily catch.