Armed with absolutely no betting experience, three friends, and some betting money, we made our way to Ebro Greyhound Park.
By TripSmarter.Com | March 21, 2013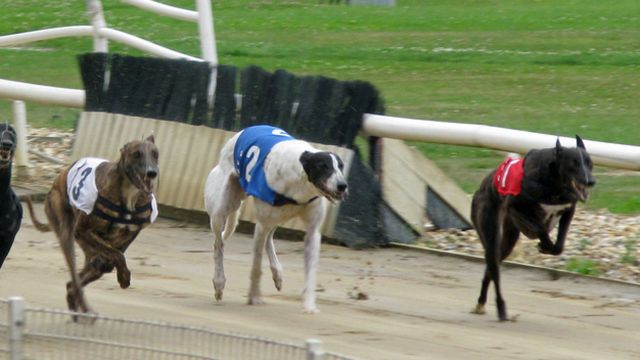 Ebro, FL
If you find yourself in either the Destin or Panama City Beach areas and you're in the mood for something different, really different... take the family to Ebro Greyhound Park.

This was my first trip to Ebro Greyhound Park. Now I'll be the first to admit, I have a wild imagination from watching too much television as a kid. Dog tracks on television were always portrayed as seedy places filled with stodgy old men smoking cigars and hurling foul language. I had preconceptions about what to expect, and I would soon learn I was completely mistaken. That's only Hollywood.

So armed with absolutely no betting experience, three friends, and some betting money, we made our way to Ebro Greyhound Park which is located just west of Hwy 79 and just North of Hwy 20. (just between Panama City Beach and Destin)

Upon entering, Ebro Greyhound Park is a massive, well-groomed complex. It wasn't filled with smoke, or old stodgy, cigar-smoking men shouting profanities. There were families of all ages, and lots of them. In fact a good 10-20% of the patrons were kids admiring the beautiful dogs - adorned in colorful numbered jerseys. And parents, Ebro Greyhound Park offers a greyhound adoption program... because greyhounds make great pets. Clearly greyhound racing at Ebro is much nicer than Hollywood portrays the sport to be.

The main attractions at Ebro Greyhound Park are the intense greyhound races. There are two (15 race) shows daily (rain or shine) the first set starting at 12:30pm and the evening races at 7:30pm. The other main attraction at Ebro is The Paddock Buffet...but there's so much more!

I caught the evening races on a Friday night, so Ebro Greyhound Park was packed. I recommend you go there for the Paddock Buffet and for the racing action. The Paddock Buffet is situated in the upper levels of Ebro Greyhound Park and has tables overlooking the track for spectacular racing views. The food is, outstanding. This is no ordinary buffet. The fresh gulf seafood, carved meats, soup and salad, and desserts will have you going back for more.

Having found a great place to sit (and eat) in The Paddock Buffet next to the window, I wanted to place some bets... and Ebro Greyhound Park makes it easy for the novice to learn to place bets like a pro. What you'll need is an Official Racing Program ($1.50) for that day's/evening's set of races, available as you walk in. In it you'll find all the information you need about the races that will take place while you are at Ebro Greyhound Park including all the stats on the dogs, the race odds, and answers to betting questions you might have.

Placing the ($2.00 minimum) bets are easy, just walk up to a betting window and tell the employee which race you're wagering on, what you think the outcome will be, and which dogs will be involved. An example would be to say, "$4.00 on dog #6 to WIN Race #2" and that's it, you've just placed a bet. Basic bet types are WIN, PLACE, and SHOW, but you can get more creative with quinellas and trifectas (all explained in the Official Race Program)

At the beginning of each race, the beautiful dogs are introduced and paraded with their handlers so the audience can get a good look before betting. These dogs are athletes and each are extremely fast with their own set of qualities that will either win or lose the race for their owners at any given time.

After the dogs are staged in their starting boxes, and you've placed your bets, the real fun begins - the racing action! Here the crowd goes crazy and cheers on their chosen dogs. Its really fun to watch them fly around the corner chasing the rabbit, and after the race, its a flurry of tail wagging.. both from the dogs and those who have actually won some cash!

My score for the night, well.. I lost more than I won.. but my friends won big and I learned a lot about greyhound racing and Ebro Greyhound Park. Between seeing these magnificent animals run, and having some really great food, you really can't lose if you go there. So if you find yourself in the Destin or Panama City Beach areas and you want to do something exciting other than the beach - head on up to Ebro, and bring the kids.