This annual festival serves up all types of food, including the celebrated fish.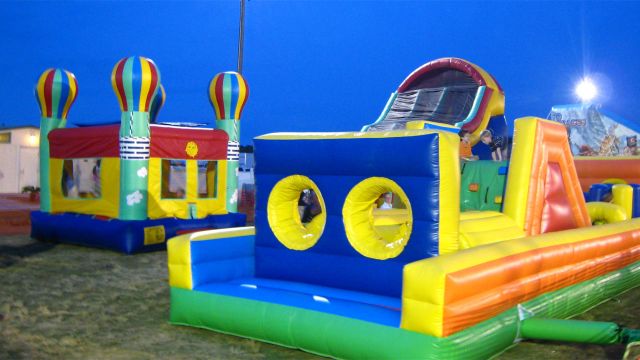 Niceville, FL
The Boggy Bayou Mullet Festival is more then your average seafood festival – much, much, more! The annual festival in Niceville, Florida always promises a great time for the entire family with big-name entertainment, the highest quality fine art and home hand-crafts, numerous exhibits, and a staggering array of food concessions.
NEED TO KNOW:
What:
Boggy Bayou Mullet Festival
When:
October 20 - 22, 2017
Where:
Mullet Festival Grounds
More than 100,000 hungry mullet fans will consume up to 10 tons of this humble fish during the three-day festival (if you'd like to help us catch it and clean it, show up a few days early!). To understand the significance of the festival, you must go back to the days when the small town of Niceville was a happy little fishing village called Boggy Bayou.
In those days, local fisherman poled flat-bottomed skiffs out into the bay at night, listened for the jumping mullet and cast their nets. They salted and preserved the fish in barrels, sold what they could, traded some to farmers from the Panhandle area and Alabama (35 miles north) for vegetables, and ate the rest. The fishing industry, relying substantially on mullet, kept Boggy Bayou alive.
Times have changed but not the special affinity held by residents for their ever-present mullet.
The annual festival honoring the mullet began in 1976 as a small event unheard of outside of Niceville. Today, the Mullet Festival is one of the South's most celebrated festivals.
For many folks living in and around Niceville, the Mullet Festival is a reunion of sorts. It's an event that brings the townsfolk together at the same time and place every year, allowing them to renew old friendships and celebrate with their neighbors.
For others, it's an opportunity to have some family fun with the kids. The festival caters to families and always keeps the youngsters entertained with such things as clowns, pony rides and other fun attractions.
The Boggy Bayou Mullet Festival has become one of the South's best known country music events. In recent years the Festival has featured nationally known country acts in a small, festival atmosphere.
Of course everyone who comes to the Mullet Festival has something to eat! With an incredible variety of menu selections from dozens of concessions, everyone is sure to find a tempting treat to try. Seafood, international foods, Cajun and country cooking, and other festival fare will be available in great variety and abundance!
A few menu items aside from fried and smoked mullet have included such diverse choices as sautéed garlic herbed shrimp, alligator on a stick, crawfish bread, Oysters Rockefeller, BBQ, shrimp tempura, and hot apple dumplings with ice cream. There are many interesting non-alcoholic drinks, frozen drinks, coffee drinks, and soft frozen drinks.
A large arts and crafts show will make for some unique Christmas shopping between eating and watching the entertainment. This is a juried show which features only original, high-quality work. All exhibitors are eligible for the "Best of Show" Purchase Award. Also, hand-made or decorated clothing will be available in the Boutique section.
The admission price includes all the entertainment. Parking is free.
The Mullet Festival is located at the intersection of Hwy 85 N and College Blvd., about 1/2 mile north of Niceville.
To find the festival from outside the local area, exit Interstate 10 at Crestview (about 50 miles east of Pensacola), and turn south on Hwy 85. After a 15-minute drive on Hwy 85, the festival will be clearly visible on the left. No coolers, pets or glass containers are permitted.