Here are some ideas for you to enjoy life on the water in the Florida Keys.
By Kim Works - Key TV | August 14, 2013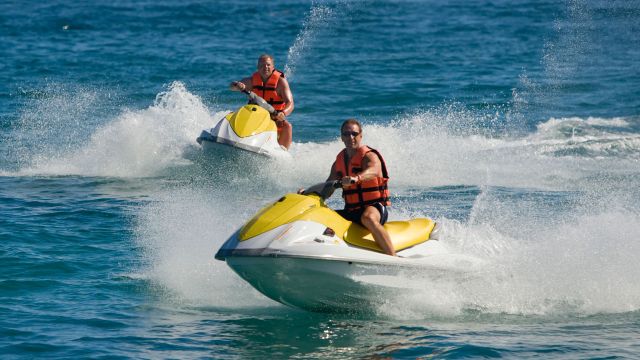 Key West & the Florida Keys, FL
This is perfect weather for boating in the Keys since the water is warm and the ocean can be flat calm.

Here are some ideas for you to enjoy life on the water in the Florida Keys.

Yankee Freedom
One of the easiest ways to get out on the water is to hop aboard the Yankee Freedom for a daytrip to Fort Jefferson in the Dry Tortugas. Not only do you get to enjoy a beautiful day on the water but you can combine this trip into a history lesson about Fort Jefferson with the entire family. Breakfast is served on the way out and great food available on the trip back to Key West as well as a full bar. They even provide you with the snorkel gear and there's a beautiful beach at the end of the moat, yes, there's a moat around the entrance to the fort! Overnight camping is available too for the adventurers and it's a favorite birding spot too.

The Fury Water Adventures
The Fury Water Adventures offers everything for everybody. Whether it be a complete water adventure which includes boating, jetskiing, parasailing and more, The Fury has gotcha covered. They even offer visitor "stay and play" packages for Key West.

Sunset Water Sports
This company also offers complete watersports packages. They can teach you how to sail a Hobie cat and they have a huge air conditioned party boat for sunset watching or private parties.

Danger Charters
If sailing while watching a sunset and sipping great wines interests you then this is the charter for you. Vacation packages and private charters are also available.

Gale Wins
If a private charter for family and friends is more your style, then hop aboard the Gale Wins. Kelly and Gale will greet you with a cold drink and gourmet food while you and your family enjoy the waters away from the crowds.

Barefoot Billy's
These guys offer a really cool tour of Key West all the way around the island via jet skis. It's easy and fun but it you're not into that ask them about their motorized lounge chairs, complete with drink holders and a bimini top for sun protection.

Ibis Bay Paddlesports
Get in on the new fad by learning how to Paddleboard with Pawel and his crew at Ibis Bay Paddlesports. He even offers a nighttime session where the boards are lit up with LED lights... very cool experience.

The Gulfstream III
The Gulfstream III party boat answers the question as to where can I go deep sea fishing at a reasonable price. You can bring your entire family and enjoy fishing with others along for the ride on this fun and affordable fishing 'party' boat.

Charterboat Key Limey
If you'd rather go sportfishing one on one, then Captain Tony Murphy can hook you up. He also owns the Saltwater Angler store at the Westin in Key West and can either take you out on his charterboat or hook you up with another one of the captains that he helps book charters for a fishing trip you'll never forget.

Fly Fishing School in Islamorada
If you want to learn how to fish the backcountry for permit, bonefish and tarpon then maybe the fly fishing school is more your style. Florida Keys Outfitters in Islamorada also offers a complete outfitter store so you can not only learn how to fish but you can also get your gear from them as well.

Looe Key Reef Resort and Dive Center
If snorkeling and diving is more your style then book a trip out of the Looe Key Reef Resort on Ramrod Key. They're only 6 miles from a protected underwater park called Looe Key where you'll find the biggest lobster, corals and reef fish in the Lower Keys... absolutely breathtaking. Plus everyone gets a complimentary beverage at their bar when you come back to decompress.

So enjoy the weather and keep cool on the water in the Keys during late Summer.