The Big Pine Flea Market is a must visit for visitors and locals really dig it, too!
By TripSmarter.Com | March 21, 2013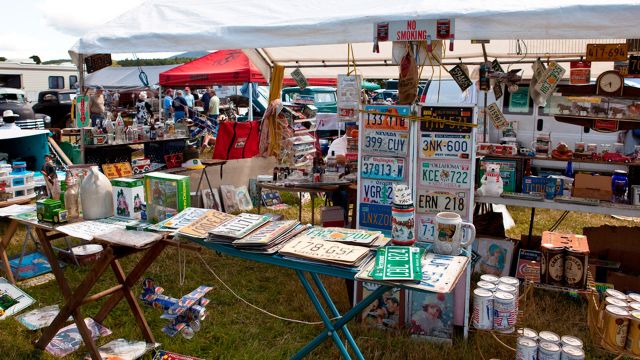 Big Pine Key, FL
If you live in the Keys or Key West, shopping may not be the top of your list... but it's hard to walk or bike down Duval without wanting one (or two) of the items so beautifully displayed in the storefront windows...store after store after beautiful store! But if you're on a budget and just don't have the time... it's not always easy to know what's on sale and where, and doesn't it always seem like the good sale was last week... or the one thing you've been saving for is gone! Too many shops and too little time unless of course you're on vacation with nothing more to do than burn a path up and down Duval, then over an back on Caroline, Greene and Front Streets... well, you get the idea. There is ONE place however where bargain hunting is made easy and condensed into one Big Pine place... and that's the Big Pine Flea Market!

The Big Pine Flea Market is a must visit for visitors and locals really dig it, too! The flea market has been around for 27 years and is extra BIG during high season. Owner, Jim Young, says the market is open every Saturday and Sunday from 8am until 2pm but during the high season months, which he says are February and March, it stays open until 4pm. When it comes to buying souvenirs and all those "little things" to cram into your suitcase, there's no better place than the Big Pine Flea Market!

We all have our favorite boutiques and galleries in town, even a favorite T-shirt shop, but when Christmas rolls around, the flea market is perfect for that person who has everything or those stocking stuffers that won't break the bank! It's only 30 miles up US1 and once you get the layout, shopping has never been so much fun... and before you know it, you'll even find your own favorite vendors. My good friend from Oregon always makes a beeline to her favorite jewelry booth every time she visits. They specialize in silver and beautiful gemstones ready for custom mounting... or so she says, as I'm never allowed anywhere near "her" booth!

That's OK cause I'm happy at my Mom's favorite doughnut stand, which according to Jim Young is the longest running vendor... and there's the book guy, with one of the largest spaces in the market, as well as a book on every subject and then some. There are several fruit and vegetable stands, too, which come all the way from Florida City and stands with original artwork and some of the most unusual woodcarvings in the Keys. My ex husband (yes, we're still friends) spends hours at the marine hardware booth and often leaves with nothing more than a great conversation about an unbelievable anchor!

For the locals up and down the Keys and Key West, the Big Pine Flea Market is also one BIG social center... you can't go down an aisle without running into a neighbor or local character... or someone you haven't seen in months, sometimes years. Though Big Pine is THE flea market, there are a few others. The Lion's Club Parking lot in Key West is turned into a funky flea market on weekends during season, and Grassy Key has their own flea market just about every day of the week and there's yet another market in Key Largo, though quite a distance from Key West! When you have "shopped and dropped" in Old Town Key West... and believe me, even die-hard shopaholics have been undone by Duval Street and its surroundings, plus there's only so much room in a suitcase. But when you get a second wind and want to look for something unique and different, it's hard to beat the longest running flea market in the Keys... milemarker 30 oceanside, Big Pine Key. You can't miss it either... there's usually a sheriff directing traffic so people can safely park and shop for every little thing... but fleas.