I have no problem feeling the Christmas spirit in the Florida Keys.
By | March 21, 2013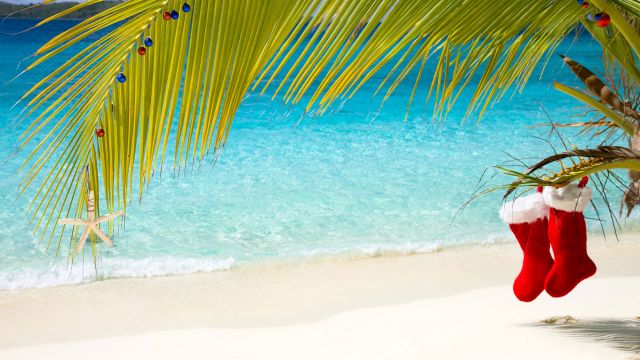 Key West, FL
Upon first arriving in Key West during the holidays, it was tough to get into the "Christmas spirit" in 80 degree weather.

Many years later, I have no problem feeling the Christmas spirit! People of the Keys tend to make up for the lack of chilly Christmas temperatures by creating some of the most incredible outdoor Christmas decorations I have ever seen, especially in New Town Key West.

In fact, it's a tradition to get with friends who have convertibles, drop the top and take nightly drives through the neighborhoods that are legendary for their extravagant decorations… OR, even better for families with young kids, leave the driving to the Conch Train that offers 1 hour tours the week before Christmas.

This is Key Weird, so, as you might expect, it's not just a traditional show of lights (although some of them are so over the top - one wonders about their electric bill). So, when you do come upon a festively decorated abode that strikes your fancy, step up to the fence and take in the details... When you look closely, you'll notice little differences that remind you that you are still in the Keys. I've seen everything from traditional nativities... to intricate Santa workshops... to zebras dressed like reindeer with a few stuffed raccoons thrown in for good measure, to a couple Key Deer, and of course, holiday music to suit the creative theme.

If you don't think these Key Westers take their decorations seriously... get this: when you buy a house in one of these areas, one of the first welcome messages you get from your new neighbors is a "calendar" informing you when your decorations and lights should be up and running. Frankly, I'd be a bit intimidated keeping up with the Joneses with that kind of pressure!

So, if you find yourself in Key West during Christmas, make a point to check out the array of decorated homes ...mainly in the New Town area which includes Flagler Ave, Harris, Staples, Duck and Eagle, and, while you're at it, make sure to check out the creativity on Duval and some of the Old Town guesthouses and retail locations. For example, Kermit's Key Lime shoppe looks like a Key Lime gingerbread house and is sure to fill your heart with tropical Christmas spirit!

Merry Christmas!