Apparently, if food isn't a certain color, people don't perceive a certain flavor.
By | March 21, 2013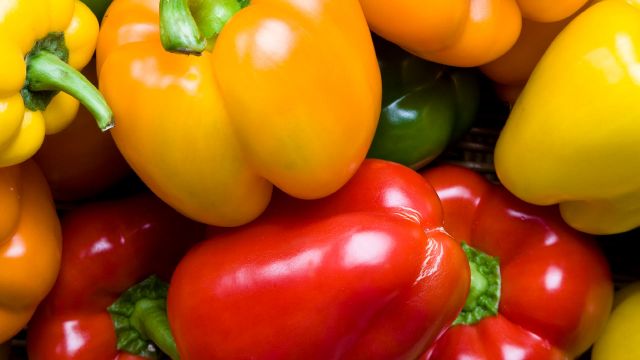 Key West, FL
I just read an article last week about how color affects our sense of flavor. Apparently, if food isn't a certain color, people don't perceive a certain flavor. And if it IS a certain color, people even perceive flavor that isn't there. When a vanilla pudding is colored bright yellow, people describe it as tasting like lemon pudding. And when cheese puffs aren't bright orange (without coloring, they're actually beige) people say they don't taste like cheese puffs.

So I've been thinking about this a lot and noticing colors in my food around the Keys. Here, according to the rainbow, are some of the best flavors in the area.

Red is the bright, huge Florida strawberries in the incredible strawberry shortcake at Ma's Fish Camp in Islamorada. It's the immensely ripe tomatoes in Azur's excellent caprese. And it is all the fresh salsas, like the red chili, at Bad Boy Burrito.

Orange is fresh orange juice cocktails at Pepe's (screwdriver, mimosa, with a dash of sunshine). It is the carrot-curry soup at Blue Heaven, and carrot juice from Sugar Apple, and carrots in the coconut curry from Help Yourself. It's silky-smooth summer fruits like mango and papaya, ripening already right now. Mango in the mango bread from Cole's Peace. Mango in the vinaigrette they serve at The Café.

Yellow is the egg yolk that breaks and spills onto your lovely eggs Benedict from Colombian Grace, or from Camille's: two of the very best. At Keys Fisheries in Marathon you can even have golden crabs if you get lucky. And yellow, or rather chartreuse, a bright yellow-green, is the color of Key limes and should be the color of your Key lime pie, or don't eat it!

Green can add so much with so little, like the shiso leaf rolled with pickled plum in one of my favorite sushi rolls I get at Ambrosia (if you haven't tried shiso, please do!), as well as the crunch of the seaweed salad there, sprinkled with sesame seeds. Or green can be a whole meal, like any number of the salads at Help Yourself.

Blue? Few foods are blue in nature, but blueberries are and they always have them on the Sunday buffet at Little Palm Island, as well as blue cheese! Blue cheese is usually on my favorite cheese plates as well, like the one at Point5, and at Santiago's Bodega.

Purple, too, is a little crazy to find, but acai (Brazilian rainforest) fruit is in the smoothies at Help Yourself, and it has more antioxidants than just about anything. Purple is also the skin of a passion fruit, and passion fruit sorbet from Flamingo Crossing is quite possibly the most refreshing thing to eat on a hot day.

The color people associate most with delicious comforting food is actually brown (steak, gravy, bread, potatoes, cookies). But if you pay attention to the natural, bright colors in your food, I can tell you from experience, the flavors shine forth and enhance your experience.