In Florida Bay, Spanish mackerel have also been plentiful and many large fish are being caught on a regular if not astounding basis.
By TripSmarter.Com | March 22, 2013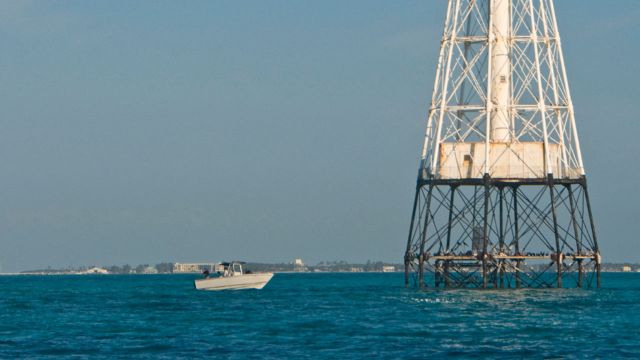 Key West, FL
The fish tales just keep getting bigger and bigger…and every now and then, one comes along that's bigger than all the rest. In this case, even the one that got away can't compare to what they're saying at sea…all around the little island of Key West!

Ernest Hemingway was probably one of the first great Americans to write about his love for deep-sea fishing and Americans have been fishing for sustenance since the time Indians first lived on the Florida Keys. They fought for the scarce territory of the Keys and battled for it as they moved south…only to fight to the finish on the final Key we now know as Key West. The battle was fierce and only a few escaped paddling furiously in their canoes to Cuba some 90 miles away. ALL the rest died on that fateful day…once the vultures and other elements took away their flesh, there they remained…mere heaps of bones piled on top of one another, tombstones marking an end to their vigilance.

Years later when the Spaniards first set foot on shore, they discovered an island littered with bones and named it Cayo Hueso (Isle of Bones) in honor of the fallen skeletons. The British ultimately had difficulty pronouncing the name and their best attempt sounded much like, "Key West," and it stuck. But I digress…everyone fished, the Indians…the British and finally the Americans and all others who made their way to "paradise." Needless to say, the fishing was great and it played an enormous part in sustaining…everyone!

Fast forward several hundred years and Key Westers are still fishing…and as I said, everyone has a fish tale or two, both big and small! The fishing, however, ain't what it used to be and there are necessary rules and regulations on it (like most everything else) to ensure our grandchildren will have fish tales of their own!

Lately, there's talk on the island…and all up and down the Keys of some extraordinary "new" fishing…the likes of which hasn't been seen for decades. Well-respected captains and fishermen are reporting the best sustained "sailfish bite" in the history of the Keys! Of course, immediate reaction would be it's yet another "fish tale" or at best an exaggeration…but by all accounts, fishermen from Key Largo to Key West, are reporting catching and releasing as many as 20 sails in just one day! First the ballyhoo were matted in numbers not seen since the 1970's and then baby sardines came out of the Gulf in numbers that even startled the seagulls up above!

Speculation is that Hurricane Wilma's jaunt through the Gulf of Mexico in late October might have pushed massive populations of juvenile sardines into the Gulf Stream and around the Florida peninsula…and the Keys of course would be the primary beneficiaries. It's an extraordinary thing… hundreds of square miles of sardines out there from Key West to Ocean Reef. Most anglers have been releasing 7 to 10 sailfish every day…and nothing too small either. It seems that nowadays, 50 to 70-pound fish, even in close to the reef edge are becoming commonplace! Nirvana you say? Indeed if you've got the deep-sea fishing bug…people come from all around the globe to find such amazing treasure. There are those who still lust after sunken treasure and ships like the Atocha…but there are others who yearn for just one BIG catch in a lifetime. The sailfish has been romanticized for years in books, movies and through whopping tales told late at night while anchored far from shore with only the stars, moon and a few good witnesses…I mean, friends by your side.

News like this "sails" around the island in print…by mouth and precious videos of an hour long battle (or more) with so regal a culprit…and good news travels fast, so it's no wonder that everyone has decided to take advantage of what can only be called…good fishing! Stop on any bridge along US1 and you'll witness backcountry skiffs (boats less than 18 feet) along the outer reef edges because the water has been so calm. No matter what it takes, people just want to be "out there," doing what they've dreamed of doing since the first time they held a rod 'n reel…fishing for the "big one" in paradise!

In Florida Bay, Spanish mackerel have also been plentiful and many large fish are being caught on a regular if not astounding basis. These days, just about everyone has a bigger "fish tale" than the last and gratefully, there's no end in sight! The deep Atlantic and the azure blue Gulf of Mexico appear to be the sole positive benefactors of terrible storms like Wilma and Katrina…and in the Lower Keys and Key West, the massive amounts of bait have created one of the best blackfin tuna and kingfish bites in years. Captains speak of acres of blackfin tuna out there coming in on a tremendous amount of bait and amateur fishermen reel off stories of kingfish in Biblical numbers…OK, perhaps that is a "bit" of an exaggeration but you get the point and the fish are ALL taking the bait.

It's season in the Keys and the average temperature is a warm 75 degrees with no humidity in sight…only schools and schools of big fish. Captains agree that the bait is here to stay and fishing should remain strong…and exciting…and FUN! And if the thrill is in fact not the destination but the journey itself…you can't beat floating idly in the Gulf of Mexico…warmed only by the sun and tales of the whopper that got away! In a day of high technology, camaraderie like this…is priceless. Everyone is heading west, both young and old…not for gold this time but that which is dark blue on top, brown-blue laterally, with a silver-blue underbelly…an elongated upper jaw in form of a spear and that which separates it from all others…a greatly enlarged first dorsal in the form of a sail…Istiophorus platypterus…the almighty sailfish!