The Festival is the culmination of years of discussions and efforts by city leaders who wanted to create an event worthy of the city's legacy as the birthplace of jazz.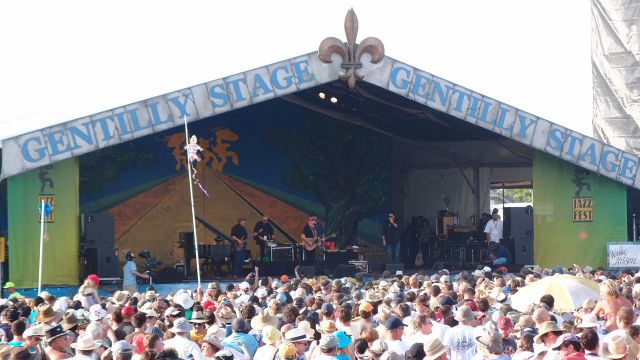 New Orleans, LA
Annually drawing tens of thousands of fans each of its six days of activities, the Festival will again be held at the Fair Grounds Race Course and run from 11:00 a.m. until 7:00 p.m. Ten stages of simultaneous music programming are complemented by an important, unparalleled Food Fair offering more than 100 varieties of authentic Louisiana cuisine and a stunning array of one-of-a-kind crafts available around the grounds in the Festival's juried crafts areas.
NEED TO KNOW:
What:
New Orleans Jazz Fest
When:
April 28 - May 7, 2017
Where:
Fairgrounds Race Course
1751 Gentilly Blvd
New Orleans, LA 70119
The New Orleans Jazz & Heritage Festival, will be held April 28 - May 7, 2017.
"Jazz Fest is an invitation to move your body and your soul," said Quint Davis, producer/director of the event. "New Orleans is the best place in the world to listen to music and to sing and dance in an open and loving atmosphere, and this year we're presenting more music than ever. As always Jazz Fest is going to give Festivalgoers the best opportunity to participate in this city's powerful and joyful integration of culture and community."
Tickets are available at nojazzfest.com and ticketmaster.com, at all Ticketmaster outlets or by calling (800) 745-3000.
The Jazz Festival offers three distinct VIP opportunities to experience the event in style: the Festival's popular Big Chief VIP Experience ticket package provides special viewing access at most of the Festival's stages; the Grand Marshal VIP Pass allows for up-close access at the three major stages; and the Krewe of Jazz Fest VIP Pass which entitles patrons to special covered seating at the Acura Stage audience area only. All of the hugely popular VIP packages are on sale now while very limited supplies last.
A listing of hotels offering Jazz Fest rates is available at nojazzfest.com. Festivalgoers can peruse room availability and book their accommodations early taking advantage of some of the best prices offered at participating hotels.