New Orleans history is tied up with the history of the pirates and other scoundrels who've haunted its shores.
By TripSmarter.Com | March 22, 2013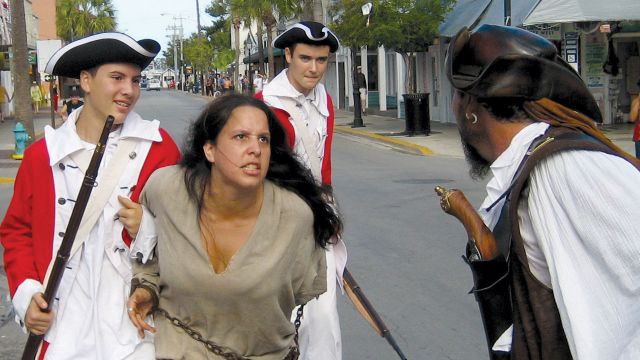 New Orleans, LA
With such a colorful past, it's no surprise that the unique city of New Orleans has a history of pirates and scoundrels. New Orleans history is littered with wars over who would own the territory... but probably the most famous was "The Battle of New Orleans." This battle was fought during the War of 1812, when America confirmed its independence from England.

Many things came as a result of General Andrew Jackson's defeat of the British army in the Battle of New Orleans, including Jackson's election as the 7th president of the United States. But, the defeat of the British was actually sealed, not by Jackson, but by Jean Lafitte, a flagless buccaneer who encompasses the romance and enigma of the history of New Orleans.

Lafitte's birth date and final resting place remain unknown. While steadfastly battling his reputation as a pirate (During and after his lifetime, Lafitte was called "The Gentleman Pirate" and "The Terror of the Gulf") he commanded an armada of 50 ships and more than 1000 privateers of various nationalities from his base on Grand Terre Island.

In rebellion against Spain, Lafitte plundered Spanish ships and then sold the contraband to New Orleans merchants.

Loyal to America, he actually registered everything with the U.S. and accounted for everything he stole from the Spanish.

Lafitte was an educated, brilliant man, speaking four languages including: Spanish, French, Italian and English. His smuggling brought incredible bargains to New Orleans, in fact many considered his loot to be the most respectable assets of the Louisiana Purchase.

For years, Lafitte smuggled thousands of illegal slaves into New Orleans, and while adamantly denying his reputation as a pirate, stored his loot (primarily imported silks, spices, wines and furniture) in a café, bordello, gambling den, warehouse and barracoon on Barataria, often referred to as "The Back Door to New Orleans."

Lafitte actually widened waterways and dug canals to better accommodate his ships in their daily travels to New Orleans, heavily laden with men and merchandise.

It was a romantic life, but it had to come to an end when Lafitte's doings threatened to monopolize the city's import trade. Local merchants complained to the governor and convinced him to accuse Lafitte of Piracy and post a $500 reward. The indomitable Lafitte counteracted with a reward for the governor's capture and hired a lawyer for $10,000.

It was during this time that Lafitte warned the governor of the British's upcoming attempt to capture New Orleans, and, in return, was awarded citizenship and his men were pardoned for past crimes. His buccaneering skills, his manpower, along with his powder and flints were instrumental in defeating the British.Without him, many believed the British would have captured New Orleans that foggy day on January 8, 1815.

After the war, Lafitte moved to another island and his privateer haven was soon overrun by criminals and fugitives. Conditions worsened until Lafitte put a torch to his island commune and sailed away into the sunset. Many stories were told of his whereabouts after that. His death is still a mystery.