The East End is where it all began… and, today, this is where the FUN begins!
By | March 26, 2013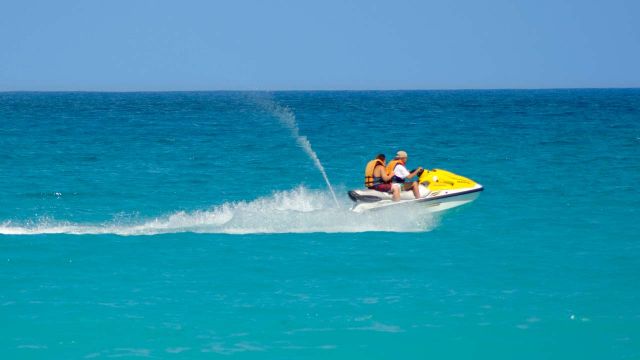 Panama City Beach, FL
The Historic East End of Panama City Beach is Waterfront Headquarters. Home to a Legendary Fishing Fleet, Pirates, Pontoon Boats, Kayaks, Jet Skis, Dive Boats, Florida's Most Visited State Park and a Beautiful Uninhabited Island!

Spanish Shanty Point on Shell Island was the area's first European settlement. Before it was settled as a community in the 1800s, St. Andrew Bay was home to Native Americans. Written records of early Spanish expeditions reported sightings of "tall" Indians living in lodges thatched with palm trees along the Bay. An old Spanish galleon and 700-pound cannon were recovered from a motel site in the early 60s, proving the presence of pirates who were said to lay in wait here for richly laden ships en route to Mexico. Legend has it that pirates buried their treasure for safe keeping near these waters.

General Andrew Jackson was infuriated by the lawless nature of the place and brought national attention to the area in 1818, when his army marched through on their way to New Orleans. Jackson was the first American to survey St. Andrew Bay, and some of his soldiers and officers returned to live here when the territory opened for settlement in 1821.

The first "beach club" was a pavilion located on Shell Island. Just before St. Andrew Pass was dredged, the pavilion was pulled by oxen to the present Pineapple Willy's location, where, in 1935, developer Gideon Thomas, built the "Panama City Hotel." Many criticized Thomas' vision, arguing that there was no future in "white sand." Thomas responded, "I'm not attempting to grow vegetables here; I'm going to grow people." It is little wonder that the main road on the Historic East End of Panama City Beach is named, "Thomas Drive."

Back during World War II, there were stables and navy barracks at Edgewater Beach. Sailors in white uniforms rode white horses to patrol the dune lined beach; camouflaged against the tall white dunes, they watched for signs of German submarines lurking off shore. On June 29, 1942, the German sub, U-67, sunk the unescorted steam tanker, Empire Mica, just off the coast of Apalachicola. (Note: The giant propeller of the Empire Mica stands at the entrance of Capt. Anderson's restaurant on Grand Lagoon. The wreck remains a popular dive location.)

In the 40s, St. Andrew State Park was a Military Reservation. Circular cannon platforms are still in place on the beach offering great sunset views. A reconstructed "Cracker" Turpentine still and turn of the century saw mill are also located in the park. Today, with its white-tailed deer, great blue herons, ibis, racoons and alligators, the park is the most visited in Florida - a favorite spot for swimming, snorkeling, scuba diving, kayaking, camping, canoeing, fishing, hiking nature trails, boating and wildlife observation.

Captain Walter Anderson pioneered the development of the legendary Grand Lagoon fishing fleet. The channel was dedicated to Anderson in 1972, and in 1984, the Bay Point Billfish Invitational Tournament was established - one of the best in the nation, recording Florida's largest Blue Marlin and world's 14th largest... a 1,046-pound Blue Marlin which is now on display at Capt. Anderson's restaurant.

This is where it all began… and, today, this is where the FUN begins! Everyone finds reasons to come back to the Historic East End of Panama City Beach. So, the next time you visit, just remember that someone was here long before you- and there may just be buried treasure beneath your feet!